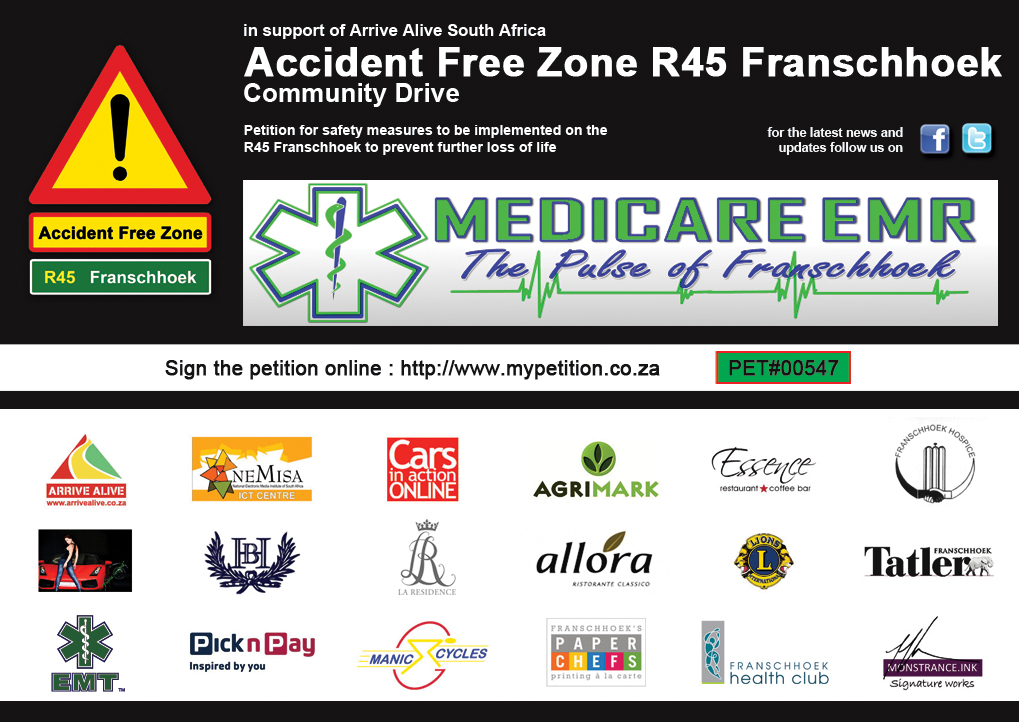 A tragic accident took place Saturday morning on the R45 when a head on collision occurred around 2am involving one of our local residents. This is a truly sad story with regards to the circumstances surrounding the sequence of events that led up to the collision. This is once again shedding light on the issue surrounding the R45 and the rising death toll.
It is with a deep sense of loss that we have to share the tragic death of our beloved friend and colleague Klaas Maffa. Klaas was a Manager at the Morëson Wine Estate, chairperson of Franschhoek Athletics Club and a Board Member of Boland Athletics. He had an embedded fear of the R45 as he previously just missed the first big accident in Franschhoek in January 2011. Sadly this was his fate. Klaas was requested by his friends at a braai to go to the BP for refreshments and cigarettes as he was the only one who was sober and had not been drinking. It was on his way to the garage when he was struck head on by a gentleman from Johannesburg who was leaving Franschhoek after attending his brother's wedding earlier in the evening.
Both were killed instantly and the vehicles were strewn across the R45 and ending up in the ditches on opposite sides. It was only when a SAPS vehicle, on routine patrol, drove past the scene and noticed the glass and debris scattered all over the road. Upon investigating, they found the two badly wrecked vehicles in the ditches with each of their occupants deceased.
Our deepest sympathies and condolences to the surviving families of the two gentleman and will keep them in our thoughts and prayers.
We at Medicare EMR can't begin to stress the importance of the petition we launched following the first two fatalities. It is of utmost importance that we get your support either via the signing of the online petition @ http://www.mypetition.co.za/index.php?page=sign_petition&petition_id=547 or by physically putting your signature down on the paper campaign with petition books available for signing at the various outlets listed on the campaign posters. We need to have better safety measures implemented on the R45, ensuring a safer road for all who travel on it. Please show your support and sign the petition. We have also made an email address available for businesses to submit individual letters of support in their own words. Please take a few minutes of your day and support this campaign. For business letters please forward the letters to public-safety@medicare-emr.co.za
RIP Klaas Maffa, hamba khahle broer.