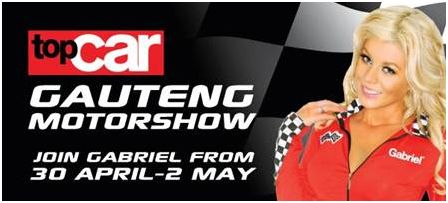 2011 GAUTENG MOTOR SHOW – GABRIEL IS GIVING VISITORS A CHANCE TO WIN A FLIP IN STUNT PLANE
The company, in partnership with Safari Centre, will be displaying its range of Warn winches and accessories that visitors will be able to purchase at the stand. A second stand will retail well-known brands such as VDO and ACSA-MAG.
The Gabriel aerobatic planes will have shows at various times throughout the event. Visitors need to look out for Gabriel promotional staff, dressed in red air hostess suits, where they will be able to get 50% off the fitment cost of a set of Gabriel shock absorbers in partnership with Hi-Q fitment centres.
Visitors will also be in line to win a flip in one of the Gabriel stunt planes, well known around the country for their breathtaking aerobatics.
About Gabriel:
Gabriel is part of JSE-Listed Control Instruments Automotive, which holds the manufacturing and distribution rights to the Gabriel range of shocks, struts and cartridge products for Sub-Saharan Africa.
This year marks the 76th anniversary of Gabriel shock absorbers in South Africa. Gabriel holds the majority market share of SA aftermarket, 33 years running.
Gabriel was originally imported into SA in 1935. During that time, the company has introduced a number of world-first designs that were subsequently manufactured in plants worldwide. It was also the first shock absorber company to advertise on TV.
Also view:
Shock Absorbers and Safety on the Road