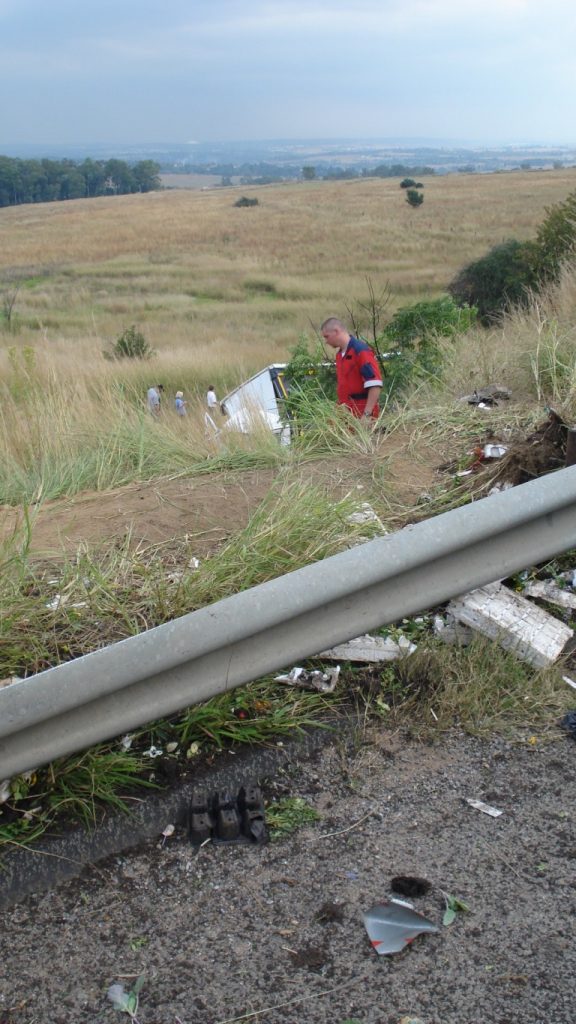 Two closed container trucks have collided on the N14 between the R114 and R511 on ramps.
According to the driver of one of the trucks, he was driving in the fast lane when the second truck suddenly veered towards him, crashing into the side of his truck. The truck then veered toward the left hand side of the road and crashed through the barrier. The truck crashed down the steep embankment, approximately 10 meters.
As paramedics arrived at the scene, they were alerted to where the truck had come to rest down the embankment. At the time of the accident, 3 men had been travelling in the truck. One man had sustained critical injuries – a suspected head injury, while the second man was left with serious injuries. The third man was checked by paramedics after which he decided he would rather go to hospital privately.
The second truck had come to a stop in the emergency lane approximately 40 meters up the road. Both men inside this truck, although in shock, were left with no physical injury. The driver later complained of pain to his left shoulder, but he said we would prefer to go to his own private doctor to have it checked.
The police attended the scene and would investigate the aspects of the accident.
The traffic was severely backed up in the direction of Krugersdorp from the R511 as one lane had to be closed for emergency vehicles at the scene.
Vanessa Jackson
ER24