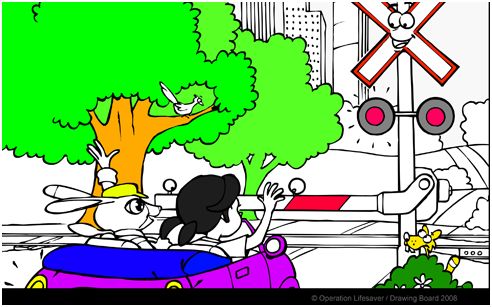 As part of the ILCAD campaign 2011, it is intended to organise an international drawing contest for children on safety at level crossings on the occasion of the International Level Crossing Awareness Day 2011 (ILCAD) to take place on 9 June.
The competition is open to children everywhere (including those of UIC HQ colleagues and UIC members' staff) and will be divided into ages 4-7, 8-11, 12-15 and 16-18. Whilst of course the drawings are supposed to be done by hand, we would appreciate that entries are then scanned and sent per post and per email by high definition IT file. Each entry must include the name, age and contact details (preferably an e-mail address) of the artist.
Deadline for sending drawings to Isabelle FONVERNE, UIC HQ, 16 rue Jean Rey 75015 PARIS – FRANCE and by email fonverne@uic.org is: 13th May 2011. The review of all the entries will take place in Paris and the best drawings will be announced on 24 May 2011. The decision of the judges will be final and no correspondence will be entered into.
The best drawings will be rewarded by a prize that will be communicated later on. The chosen drawings will be uploaded to the ILCAD website www.ilcad.org in advance of the international campaign date of 9th June.
Also view: