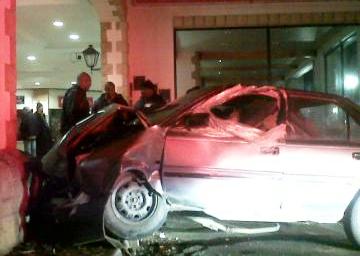 A serious incident occurred this evening at the Broadacres shopping centre in Fourways.
According to a bystander at the scene, a male passenger was driving with a female driver and was allegedly giving her an informal driving lesson in the vacant parking lot. The vehicle then accelerated to a high speed, before colliding head-on with a concrete pillar.
When ER24 paramedics arrived at the scene they found the male passenger entrapped in the twisted metal of the wrecked vehicle. The man had sustained significant injuries and was later declared dead at the scene. The female sustained injury to her face and was treated at the scene before being transported to a nearby medical facility.
Local fire and rescue services at the scene were cutting away at the metal to free the deceased man's body from the wreck. Law enforcement authorities were at the scene and will be investigating the incident further.
Andre Visser
ER24