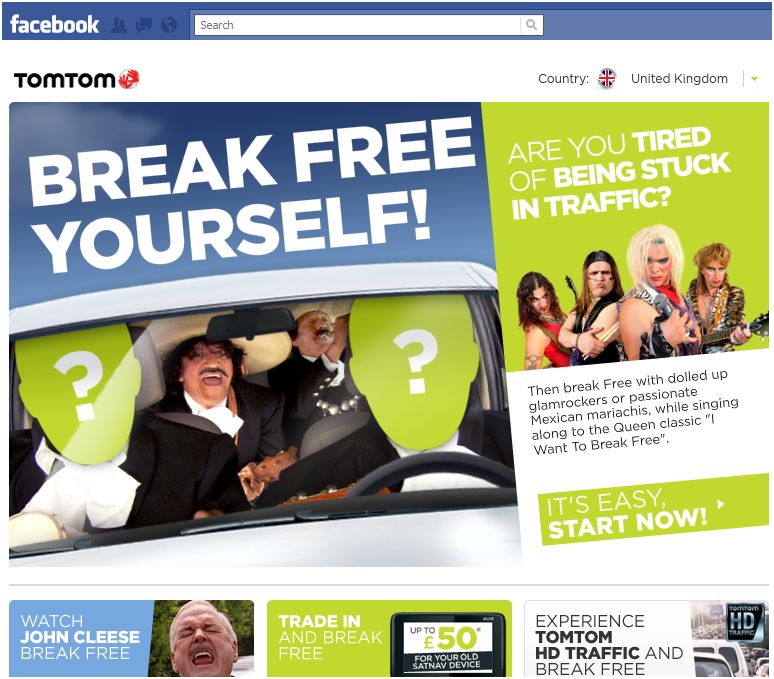 TomTom has just announced the latest exciting campaign named Break Free. This campaign aims to allow people to break free from traffic and even John Cleese has joined the band wagon to Break Free from hateful traffic:
John Cleese: http://www.youtube.com/watch?v=gxMS2cSsNJo
Bob Sinclar: http://www.youtube.com/watch?v=JBN9wv_-Yzc
Pearl Jozefzoon: http://www.youtube.com/watch?v=yezAC67p-Vw
Please check out the TomTom Facebook site as well as the microsite:
http://www.facebook.com/TomTomSouthAfrica
Check this funny facebook app – so cool http://apps.facebook.com/breakfreeyourself
More information is included on the research conducted by TomTom International with countries from all over the globe. TomTom commissions these results on the day same day of the launch of the Break Free campaign which aims to help people break free from traffic.
The study revealed that women suffered an 8.7% increase in stress from driving in traffic, whilst men suffered a staggering increase of 60%. More worryingly, in the same tests 67% of women and 50% of men reported not feeling stressed 20 minutes after driving in traffic, when physiologically they were. The research goes on to suggest that the effects of long-term exposure to stress chemicals include suppressed immune function, raised blood pressure and elevated blood sugar levels.
Also view: