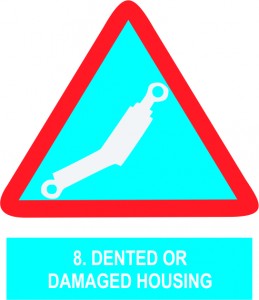 The announcement by Sibusiso Ndebele, minister of transport, to align South Africa with the worldwide United Nations' Decade of Action for Road Safety campaign is a step in the right direction.
"Contributing to accidents are worn tyres, brakes and shock absorbers. While drivers are able to physically look at their tyres and see the tyre wear or when braking, feel that their brakes need changing, shock absorbers are another matter. Drivers generally don't know how to tell when their shocks are worn," says Sean Staley, executive manager – Marketing at Gabriel, the shock absorber division of JSE-listed Control Instruments Automotive.
In South Africa it is estimated that 50% of cars older than five years on the road have worn shock absorbers. But drivers are not aware of this because they gradually adjust their driving to compensate for the extra roll or bounce.
"Worn shock absorbers dramatically increase the risk of an accident and a vehicle with worn shocks becomes difficult to control in an emergency situation," he says.
"As with many campaigns like this, government needs private sector support. The high number of deaths on our roads are unacceptable," says Staley.
"In the case of shock absorbers, drivers need to have their shocks tested at least every six months."
The average age of vehicles on South African roads is more than 12 years and shocks become less effective after about three years. Generally, shocks should be changed every 80 000 to 100 000 km.
"Worn shocks wont keep your wheels glued to the road, no matter how new your tyres are. A worn shock absorber will cause the tyre to bounce creating worn or bald spots," he says.
"In an emergency situation, when applying brakes worn shocks can make the tyre lose contact with the road, increasing the chance of an accident."
Research conducted by Gabriel reveals that consumers are confused about shock absorbers.
"End-user research results indicates evidence of product and brand erosion. Contributing to this are the low levels of innovation and channel development from manufacturers and suppliers," says Staley.
In the research, 35% of the consumers interviewed did not know the brand of shocks on their vehicle and 80% of end-users emphasised the influence that counter staff have on recommending when to check and replace shocks.
There was a high level of 'lack of information' about shocks and the importance of how the shock affects the vehicle's ride, performance and safety. Knowledge of brakes was much higher at 67%, tyres at 25% and shocks only at 6%.
The absence of a generally accepted wear-and-tear measurement was evident. This is the time period or the number of kilometers between shock replacement.
"The findings allow us to understand the opportunity and potential around a retail programme in growing the market and at the same time educating consumers."
Also view:
Shock Absorbers and Safety on the Road
Shock Absorbers and Safe Driving