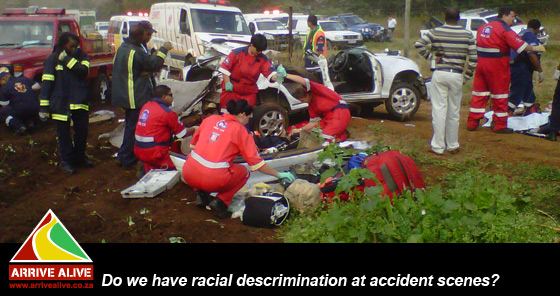 Race and discrimination are sensitive topics for all South Africans. As proud South Africans we strive to unify South Africans across the lines of race, gender, status etc. When we reflect on road safety there is only one focus – trying to save lives – and recognizing that ALL lives are precious.
It is alarming to think that some might consider this not to be the case – and as this is a very important aspect for myself, especially in light of the recent launch of the Decade for Road Safety, I would like to respond to a recent email delivered to the Arrive Alive website.
Question:
"Subject:        information on hit and run cases for newspaper article
Message:
——–
Hi, recently I came across a hit and run victim. I am writing to the newspaper about the incident. I need some information please!!
– demographics of car owners in South Africa: how many people drive cars in SA?
– how many car owners are white people?
– What is taken into consideration when someone accidentally knocks over a pedestrian.. legal implications etc?
– What is the legal penalty if someone hits over a pedestrian while under the influence of alcohol?
– What is the best thing to do if you are at the scene of an accident and someone has been knocked over? I mean here to counsel them, get them water, not move them, reassure them; mainly for their psychology.
The reason for the above: the man I met who had been knocked over was coloured. Some white people had stopped but no one even bent down to tell him it was okay and help was on its way or find out his name, or if they could call his family. No one did anything for his psychology. They just stood there like he was an animal. It was horrible!
Also, I am trying to make people more aware that mostly advantaged people are driving cars, whilst those people who work hard and must walk are usually dark, and it is terrible fact, but to be aware of advantage and drive safely… respect others whose fault it is not for being on the road.
Thank you so much. I hope I hear from you soon.
Response:
I believe that there is no better person to share a response than Howard Dembovsky from Justice Project South Africa. Herewith find his very detailed response:
Forgive me for saying this but it is my observation from the questions that you have asked and what you have said, that at least a portion of your outrage comes from the fact that you yourself do not know what to do in a situation like you encountered and you seem to be lashing out at others and making a number of false assumptions based on these frustrations. It is not my intention to insult you so please do not take what I am saying in that way and forgive me if I have misinterpreted any of your intentions. People who know me know that I shoot from the hip and never dress things up to cater for who will be hurt by what I have to say. Truth is an all too often ignored element in modern life where people wish to stay politically correct and this is shameful in my opinion. Let's call a spade a spade and not a "rectangular gardening implement".
I completely understand your outrage about how the victim of this hit and run incident was not approached by bystanders at the scene and I can tell you without any shadow of a doubt that the behaviour of not having regard for him as a fellow human being is a common phenomenon. The one explanation I can offer is that people often assume that someone else has already done what you suggested (reassuring him, offering to contact his family, etc.) but the biggest single cause is that people like to spectate and skinner amongst themselves at the scenes of crashes.
It is uncanny that people do this sort of thing but I can tell you without a shadow of a doubt that racial ethnicity has absolutely nothing to do with it. I have observed the very same thing white on white, black on black, etc. so I think it would be extremely inflammatory and unjust to go off and classify this as a racist thing. There is enough racial tension around in South Africa without adding fuel to the fire and I personally think that the time has come for all to understand that people generally do not disregard the suffering of other people because that person is a different colour to them. They do it because they don't know what else to do and it helps them cope.
The things that one needs to bear in mind with respect to people's behaviour are the following:
Many people who observe a crash when it happens generally pull over and/or mull around to see if they can help and then realise that they have no idea what to do. They then stick around anyway.
This comes from them not knowing the first thing about first aid, etc. and even less about traffic control and how dangerous and/or inconsiderate it is to actually mull around at a crash scene.
It also comes from a bizarre curiosity, coupled with squeamishness when they see blood and injuries and crashed up vehicles and people.
A victim is actually seen as being "out of bounds" by most people and they are content to stand around and spectate and discuss the crash amongst themselves. Hence the phrase "spectator value".
This is equally true of rubbernecking drivers who all but (and often do) crash in trying to get a good view of what is going on when they drive past a crash scene.
Not getting directly involved in any incident is also a human trait – especially where this could lead to inconvenience later.
You will note that I use the word "crash" and never make use of the word "accident". This is because the word "accident" really demeans from the seriousness of these things and the sooner we all start viewing crashes as serious incidents and not "oopsies" the better. I refer you back to calling a spade a spade.
Now for your questions in depth:
demographics of car owners in south africa: how many people drive cars in SA?

As at 30 April 2011, there were 5 675 628 motor cars registered in South Africa, according to eNaTIS.
But please bear in mind that this figure is for motor cars, NOT all self-propelled (motorised) vehicles.
Minibuses (taxis), buses, bakkies, trucks, motor cycles, etc. are also motor vehicles and the total of all self-propelled (or motor) vehicles in this country is 8 909 669.
This means that there is approximately one motor vehicle to every 5.4 people in this country but if one takes the population under the age of 18 off this figure then this drops to one vehicle to every 3.4 people. Whilst I am no statistician, that is a lot of motorised vehicles by anyone's standards and the chances of getting hit by one of them has got to be pretty high.
.

how many car owners are white people?

I don't think that this is a demographic that is catered for in the statistics but I would hasten to add that if it were, you would probably be shocked to find out that vehicle ownership would most likely be higher in other "race groups" than whites. My assumption comes from the fact that our country has a population of 49 million, of which it is estimated that 90.8% are not white, or more specifically 79.4% are black, 9.2% are white, 8.8% are coloured, and 2.6% are Indian or Asian.
If you look at the form RLV – application for registration and licensing of a motor vehicle you will notice that it does not pose the question of race on it, so I sincerely doubt if this information will be available anywhere. It does ask about the sex of the person however.
Whilst I agree that the advantaged are generally those that drive newer, fancier and often bigger cars (SUV's and the like), this is most certainly not linked to being white. Quite the contrary – from my observations, to be quite frank with you the vast majority of fancy vehicles on the road are driven by people who are not white and this is as a  result of our country's population demographics and employment opportunities.
I think that the vehicles on the road are more associated with people's financial status – not whether they are advantaged or not. I am white and I drive a clapped out old Fiat Uno because that is all that I can afford and I am certainly not alone in this demographic. The car is roadworthy but it can hardly be defined as a luxury car of a privileged person.
I take umbrage to what you are trying to imply here and I am sure that other people will do likewise so I would like to encourage you to steer clear of creating another racial debate on something that is truly not so. I am sorry if this offends you, but being politically correct has never been high on my agenda and I despise it when people try and make racial incidents and stir up further nonsensical racial intolerance with their utterings.
I am also certain that my "non-white" colleagues copied in this email will agree with me on this score as they too are not racists and know full well that I am not one.
.

What is taken into consideration when someone accidentally knocks over a pedestrian.. legal implications etc?

In all incidents (on public roads) where a person is injured in a crash, you must by law call police to attend the scene.
Failing to stop and ascertain whether the person you have hit has sustained injuries (or damage in respect of another vehicle or property) is also a criminal offence and it is beyond reason why anyone would have so little regard for another human being or property as to even contemplate not stopping, but the fact is that this does happen from time to time.
Running a pedestrian over or driving into them is a serious, criminal offence and anyone doing so will:

Be charged with reckless or negligent driving – which is a criminal offence for which a permanent criminal record is imposed if they are convicted.
Be charged with culpable homicide if the pedestrian dies as a result – once again a criminal offence for which a permanent criminal record is imposed if they are convicted.
Remember – an "accident" is not the right definition for this. There is almost always a high degree of negligence involved. I don't believe that there is such a thing as "accidentally knocking over a pedestrian" and I believe that someone – often the pedestrians themselves is always to blame. Sure, no-one (or few people) actually go out with the intent to run someone over or jump in front of a moving vehicle, but that is not the point.

The seriousness of injuries and damages always factors into things and will determine the severity of the sentence that is handed down when one is found guilty in court.
All people must always remember that if you get in your vehicle to drive it, you must be acutely aware of the fact that there is a good chance you could hurt or kill someone with it if you do not exercise a high degree of care.  Pedestrians must also realise that people are much softer than motor vehicles and your chances of winning an argument with one is remote.
.

What is the legal penalty if someone hits over a pedestrian while under the influence of alcohol?

Being under the influence of alcohol or drugs whilst driving is a criminal offence, regardless of whether you hit another road user or not.
Where a person is  under the influence of alcohol or drugs whilst driving and crashes into another road user, this is considered as an aggravating factor, not a mitigating one.
The degree of recklessness and negligence is worsened by the use of alcohol because people will generally do things that they would not normally do if they were not under the influence. Their reactions are also seriously impaired.
If someone partakes in alcohol or drugs and then drives, it is factored in by the courts that a conscious decision was made to partake in this was made prior to driving so, therefore one cannot easily claim diminished capacity after an incident has occurred by saying "but I was high, so I didn't know what I was doing". Sorry Jub Jub but that is not going to wash!
Being found guilty for reckless or negligent driving, culpable homicide or driving under the influence of alcohol or drugs carries with it the possibility of a (hefty) fine or imprisonment or both a fine and imprisonment but regardless of what that penalty may be, they all carry with them a permanent criminal record and the effects of this can and will  be felt for the rest of one's life.
Remember that a criminal record is for life and affects things like employment prospects and even gaining a travel visa to many countries. It is not something that any thinking person should want to incur.
.

What is the best thing to do if you are at the scene of an accident and someone has been knocked over? I mean here to counsel them, get them water, not move them, reassure them; mainly for their psychology.

I am going to answer your question in a far broader context than only with respect to pedestrians because the same principles apply whether the injured party is a pedestrian, passenger or driver.
The first thing to consider is to secure the scene and the injured party or parties from further harm.

All too many secondary crashes happen because crash scenes are not properly secured and by this I mean parking vehicles some way from the actual scene and putting hazard lights on, placing warning triangles, traffic cones etc. Traffic flares are not generally used in South Africa and this is one (of a few) things we can learn from the Americans.
Flagging down oncoming traffic and directing it around the scene is helpful but those doing this should know what they are doing and always be aware that a driver who is not paying attention could easily also crash into them.
Staying vigilant and being prepared to jump out of the way of approaching traffic and/or rubberneckers who are too busy trying to get a better view of what is happening rather than concentrating on where they are driving is vitally important.
Visibility to motorists is vitally important and it is a great idea to wear a high-visibility vest or jacket and wave things like reflective warning triangles around. This is why I  fail to understand why traffic officers' uniforms in this country (and others) are camel coloured which blends in with the road. As far as I am concerned, they would be better dressed in day-glow and reflective clothing from head to toe.
I firmly believe that every vehicle should have at least one high-visibility, reflective vest or jacket in it for the driver and/or passengers to wear in the case of an emergency but this is not law here or in any country in the world as far as I am aware. Once again, these are inexpensive and it would be great if they were supplied as standard equipment when one purchases a vehicle.
Keep crowds far away from the injured party/parties. There is little worse than being the one who is hurt and having a crowd of spectators gather around you to "ooh and aah" about how bad it looks, etc.!
Never become one of the crowd of spectators. If you cannot do anything useful at the scene and if you did not witness the even happening – get lost!

Then, first and foremost with respect to aiding the victim – do no further harm.
Few people are qualified first aiders and fewer yet are qualified psychologists or councillors but a very good place to start is by contemplating that at some stage in one's life, there is a high probability that one will have to assist an injured person.
Whether it is a family member or a stranger makes little difference and if you don't know what you are doing, you can easily cause more harm than good.
Basic first aid training is available in a number of places including voluntary organisations like the Red Cross and St John's Ambulance, as well as private and government emergency services and it generally costs little or nothing to attend.
Do not give them water or other drinks or food as there may be a possibility that they will need a general anaesthetic in hospital and if they do, they could vomit whilst under it and this could kill them.

Do not move them unless you are opening their airway and if you don't know what this means then refer back to the beginning of this sentence.
If possible, cover them with a blanket as shock  sets in quickly with crash victims and this causes the body temperature to drop.
Be very careful of blood and other body fluids as HIV infection is very easy to contract.
Learn first aid and you will know what to do and how to do it.
The three priorities in first aid are BBC – breathing, bleeding and consciousness but a first aid course will teach you this and a lot more.

Ascertain the extent of the injuries and call for assistance from the emergency services and traffic authorities or police – in that order.
Remember that the first priority is to preserve life and minimise suffering so call for medical assistance first.

If you are a qualified first aider then get to work immediately. If you are not, you can apply common sense to a large degree but be careful not to cause further harm by your own ignorance.
When calling for medical assistance be sure to:

Relate as much information as is possible to them. i.e. how many people and vehicles are involved, location, types of vehicles etc.
Relate how serious their injuries are.
Stating exactly where the scene is, is vital. If you are not sure, then find out since all too many people get confused or panicky in these situations and give emergency services the wrong information. This often causes delays – especially where the scene is on a freeway where stating that one is on the N1 South where in fact one is on the N12 East can cause precious time to be wasted looking for the scene or a place to turn around.
Emergency services will often call traffic authorities or police to attend as well, but there is no harm in you also doing so.
Investigating and prosecuting comes later and the traffic or police authorities' immediate function would be to take over securing the scene.
When paramedics arrive, let them take over – even if you are a doctor as there is a big difference between medicine and trauma medicine.

Reassuring the injured person or persons is a vital part of first aid but even someone without this training can at least tell the injured party/parties that help has been called for.

Doing so calmly is very important to not worsening the situation for the victim.
If you cannot stay calm and act like you are in control then stay away.
Imagine yourself in the situation and ask yourself if you would like to hear someone say "Oh my God! You are minced up and you are spurting blood all over the place. You poor thing."
Remember that there are times that emergency services can take some time to arrive – especially in heavy traffic conditions where inconsiderate drivers refuse to get out of the way. This happens more often than anyone would like to admit and I can tell you that it is despicable that people in this country have so little regard for human life that they are prepared to obstruct emergency vehicles by assuming, amongst other things, that the reason that it has its lights flashing and siren on means that the emergency worker is abusing their powers.

Calling family members is a tricky subject and even though this may sound clinical or unkind, I do not recommend calling family etc. from the scene of the crash until emergency services have arrived or even leaving this alone entirely for to them to do. The reasons are simple:

The shock on the phone can cause family members to panic and rush to the scene, where they can generally do nothing to help and plenty to hinder paramedics and the like.

They can also be tempted to confront the party who injured their family member and want to exact revenge there and then.
Getting to the scene in a hurry – as most reasonable people would want to do generally causes people to disregard a number of traffic laws themselves and there have been numerous incidents where people rushing to their loved ones have either incurred a number of traffic fines – or worse yet, gotten involved in a crash themselves.
Remember – when people get bad news about family members involved in a crash, reason goes straight out of the window and panic takes over.
Family members will be useful at a hospital but at a crash scene, they can actually do less to help and more to hinder than one may first think.
This can cause even more angst for the injured person who, coupled with the fact that they are injured, have to deal with wailing, panicky or aggressive family members.
The situation is significantly worsened psychologically for the family members of the injured person if they do not have their own transport and cannot go to the scene.

It is vitally important not to interfere with the scene of the crash.

Although it can be impractical not to move vehicles involved in it, you should leave this to police or traffic authorities who know how to mark the positions of vehicles etc.
Crash investigation efforts are often hampered by well-intentioned people who do not know better and move vehicles before they should be moved.
Just like one would not usually run around cleaning up evidence at a murder scene, doing so at a crash scene can make the investigation that much more difficult for the investigator/s.

Please note that whilst everything here has been separated, the actions described above are generally done by more than one person sharing the tasks and where that is not possible, they are usually carried out in a relatively short space of time.
Lastly, if you were a witness to the event as it occurred, then stick around and go forward to the traffic authorities or police that were called to the scene and give them a statement but understand that there is a good possibility that you will be required to give evidence in court. This should not deter anyone from "becoming involved" but sadly that is exactly what it does as people see their own convenience as being more important than doing their civic duty. This is more especially true of the fact that the Road Accident Fund (RAF) is all too keen to find a way to minimise or even not pay compensation to crash victims and you should always think how you would feel if you were to be declined on your claim against the RAF because a witness refuses to "get involved".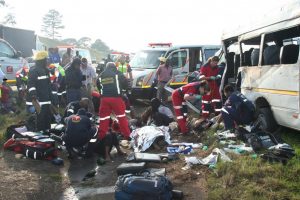 I am going to say this once again though. If you are not performing a function and/or were not a witness to or otherwise involved in the incident then go away and leave people who were and are to do what needs to be done. Spectating serves no purpose other than to satisfy your own lust for the macabre and if that is what you want then go and hire a horror movie or something! Better yet, you are welcome to contact me directly and I can refer you to some excellent crash videos on YouTube etc. or show them to you myself.
Please take note that where I make reference to "you" in my responses, this may not specifically relate to you as an individual but rather to people in the broader context.
I hope that I have answered your questions satisfactorily (and not too harshly) and I also hope that it may be published where drivers would actually take the time to read it. What to do in the case of a crash where a person has been injured is a vital tool in a driver's knowledge bank. I and my colleagues could probably write a voluminous handbook on the do's and don'ts of attending crashes but I guarantee that most people would ignore it since the common belief is that they do know what to do – until they are faced with the situation.
If I had my way, no-one would be granted a driving licence unless they had first qualified as a first aider and been given practical experience at attending crash scenes, but I don't get my way in a lot of my radical ideas and that is just the way it is. I dare say that if I were to get my way, there would be way less crashes and significantly less road deaths but until such time as everyone comes to understand that possessing a driving licence carries with it enormous responsibilities, the situation is not going to change – no matter how many people are prosecuted by those who believe that enforcement and "zero tolerance" is the only answer.
For the time being – education has been put firmly on the backburner and in the hands of unfunded organisations like the Arrive Alive website, the Southern African Institute of Driving Instructors (SAIDI), driving schools and a number of other private organisations of which ours is just one and the best that we can do is to educate those who wish to be educated – not enforce education. There is a road safety conference coming up at the beginning of June, but our organisation was not invited to it and furthermore – even if we were it is expected of delegates to pay significant registration fees for the privilege of attending. How bizarre is that?
For anyone who is interested, always remember that knowledge truly is power when viewed from a personal perspective and knowing what is required and what one should do in a given situation is an invaluable tool in not getting into a situation where one finds oneself helpless or a hindrance. Just as throwing water onto an oil fire will worsen the situation instead of extinguishing the fire, doing the wrong things at a crash scene will do similar but if you know what to do you and how to do it, you can be of assistance and get the reward of feeling good about having  helped a fellow human being.
Best Regards,
Howard Dembovsky
National Chairman – Justice Project South Africa (NPC)
Association Not For Gain  |  Incorporated as a non-profit company under the Companies Act, 2008
Also View:
Road Safety & Safeguarding the Accident Scene [© Copyright Du Metier]
Avoiding Distractions While Driving