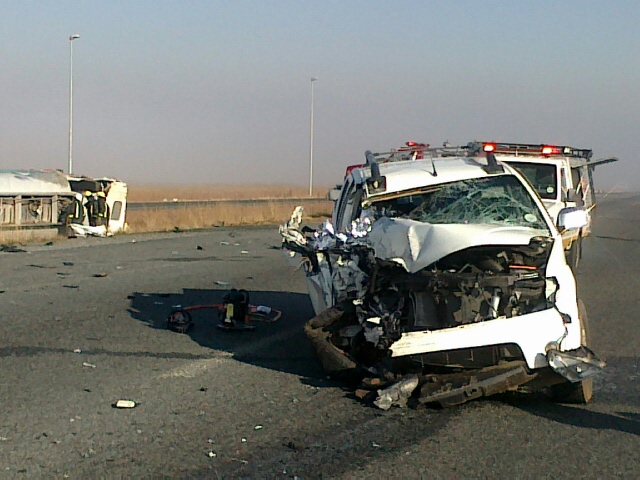 A head on collision involving a Paraffin Tanker and a double cab bakkie has left a man dead and flammable liquid spillage on the N17 near Leslie in Mpumalanga.
It is believed that the bakkie had crossed over the middle island for some reason and collided head on into the truck travelling in the opposite direction. The bakkie and truck were found by paramedics a distance from each other with debris spread across the road. The tanker had overturned onto its side into the grassy middle island of the road and started leaking paraffin.
Assessments were quickly made to the driver and only occupant of the bakkie who was sadly already dead from multiple injuries sustained in the accident. The truck driver was outside of his vehicle and was treated for minor injuries. He was taken to hospital for further assessment.
The Hazardous Material Team was called out to secure the area and to contain the paraffin spill. While they were awaiting the arrival of the Team, ER24 paramedics had their hands full diverting the traffic around the accident as vehicles passed through from the toll road.
Both lanes of the N17 will be closed until the spill has been cleared.
Vanessa Jackson, ER24