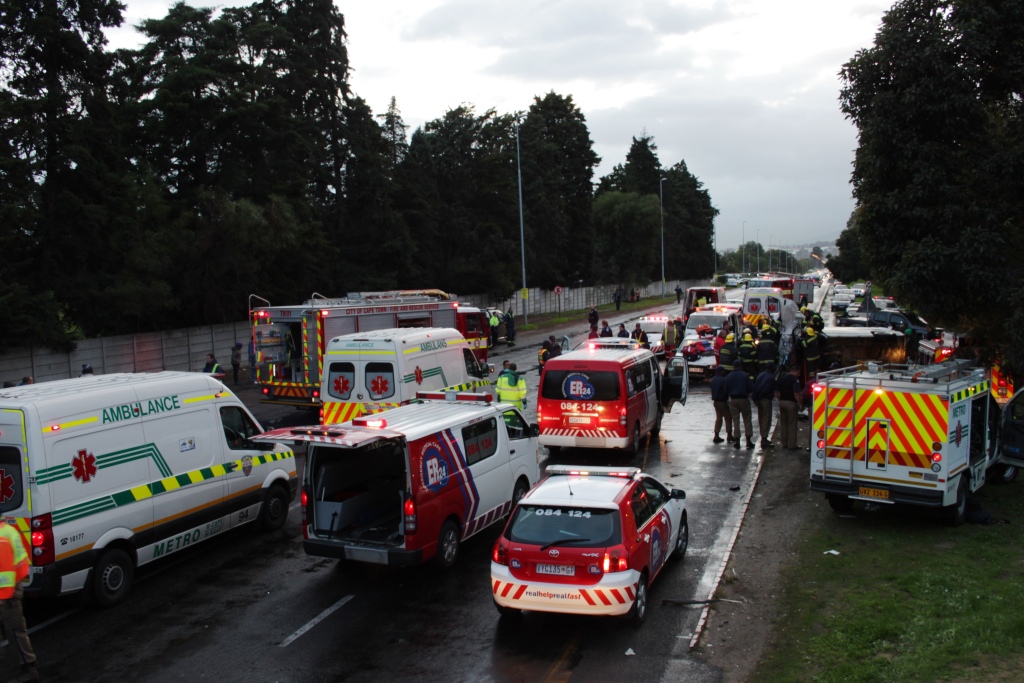 A serious motor vehicle collision occurred on Friday morning on Old Paarl road near Bellville High school.
It is unclear as to how the collision occurred, but it seems that a minibus taxi had collided head on with one vehicle. Two other vehicles had also been involved in the collision, but their drivers had sustained no injuries.
When ER24 paramedics arrived at the scene they could see that the collision was severe due the amount of damaged sustained by the vehicles involved. The collision between the minibus taxi and the Fiat was massive as the front end of the Fiat was obliterated. The minibus taxi had overturned and was lying on its right hand side.
A mother and daughter were the only occupants in the Fiat at the time of the collision. Both sustained severe injuries and were later declared dead at the scene. As paramedics started treating the surviving patients form the taxi, they established that the one patient had sustained various injuries and needed rapid transportation to hospital. They then dispatched the ER24 Discovery Medicopter to the scene.
The patient was treated at the scene before being airlifted to hospital. Due the nature of the collision and the area the ER24 Discovery Trauma support unit was also dispatched to the scene. With the sun finally rising over the scene and wrecks, it was evident that it was severe.
Multiple other emergency services including the Western Cape Department of Health: Emergency medical Services, Metro rescue and local fire services were at the scene. With a group effort and great communication between the services a total of 17 patients were treated before being transported to various hospitals in the surrounding area.
Local law enforcement authorities were at the scene and will be investigating the nature of the collision.
Andre Visser, ER24