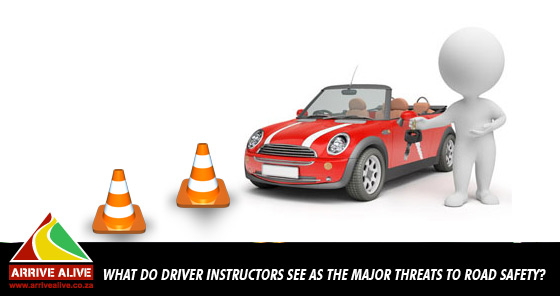 We would like to share a response to this question from Pat Allen, National President of the South African Insitute of Driver Instructors:
"In order for us a driving instructors to deserve the respect of the whole country I believe we need to address the following problem areas:
1). Lack of knowledge or certainty about techniques that we teach:
To deserve that respect, we do need to mobilize ourselves, and ensure that we are extremely well-trained and competent in what we do. Sadly, most driving instructors are very defensive about their own present standards and training techniques. Each one considers him or herself to be an expert and many have a pride-filled outlook which refuses to admit that we can all benefit by further training and by brain-storming our ideas under good conditions in a training centre. Very few instructors will actually take the time to reach out to find the best methods.
Different driving instructors and the public all teach different standards and so we have chaos on our roads with an acknowledged average of 15 000 fatalities annually, to say nothing about those who die minutes after the police have left the scene of the crash, or who die days, weeks or months later. It is often said that they die from secondary causes, so their deaths are not included in the road fatality figures, but they would not have developed the secondary causes if the crash had not been the primary cause of injury.
As a driving instructor myself, and as one who teaches people with disabilities, some who have been injured by having caused the crash which nearly claimed their lives, such as by driving when drunk, or by having caused the death of other innocent victims, and of those who were the victims of other people's bad driving, I can speak from personal experience of the effects of South Africa's very low standard of driving. My own brother was the victim of another person's shocking driving and I am not alone. We ALL know someone killed or maimed due to the exceptionally low standard of driving in South Africa.
As driving instructors, we do need guidelines based on the law. We need to establish one single set of rules all South African drivers can follow. Extensive training can alter the country's bad reputation as having shocking drivers.
That generally-accepted standard will assist every driver to operate on a similar basis, which will give clarity and lead to much greater safety on our roads. At the moment people are all confused, convinced that certain techniques are correct, but others do not necessarily agree. This confusion leads to many incidents of irritation and frustration every time we drive.
That is why SAIDI is in favour of a central training centre being established, which is used for the benefit of everyone in the transport industry, particularly the Police and driving instructors, who set standards across the country.
SAIDI is ready to become that statutory body, working hand-in glove with the authorities, and welcomes the opportunity to offer assistance
2). Pride and arrogance:
Pride generally plays a major role, which in turn, is carried over to our pupils, who, as new drivers, frequently believe they are invincible. After passing their licences, many new drivers cannot be taught anything further to improve their driving standard. It is a sad fact that many young drivers actually have to be physically stopped by being immobilized by a life-threatening collision, forever changing their bodies, before they will consider the possibility that their driving standard may have led to their near-death experience – that is, if they survive, and if they did not involve innocent people in their crazy driving stage while they tried to overcome their youthful hormonal desire for excitement behind the wheel.
3). Rebellion against the law:
Most "instructors" are operating illegally. To many it is an easy way to make money, and we hear so many stories about fly-by-nights robbing the public. That is why SAIDI recommends that the public select a SAIDI member. We check that every member is a legal driving instructor before admitting them as members. They are under a code of conduct.
We as the ones who are there supporting our nervous new learner drivers who are just getting started, gradually improving their understanding and ability to control the vehicle while obeying every law. If we don't comply with the law, how can we teach the law?
We know that the standard we set for our pupils stays with them for a lifetime of excellent driving. This can only happen if we are quite certain of our standards ourselves, and always drive to that standard, even when no-one is looking. So many driving instructors tell their pupils what they have to do to pass, but they say things like, "Drive the K53 way just to pass your licence, then you can drive like everybody else!"
This is not a wise thing to do, in fact it is downright stupid, ignorant and short-sighted. It shows that the driving instructor has not been correctly trained and is busy releasing thousands of new drivers in his or her lifespan, who rebel against the law and have an attitude of disrespect for the South African road traffic legislation in general. In fact, this is criminal!
4). Political influences:
This is a minefield, and I am almost afraid to go here, but I suspect that the country is presently going through a swing of the pendulum where we all lived under the apartheid regime for a long time, and since the New South Africa, so many of us of all ethnic groups, are against everything it stood for, and the harm it did to our country internationally. I wonder how many people have recognised that this has led to a resistance to the law, which includes obeying any laws, including road safety laws. This would account for the exceptionally low standard of driving and lawlessness on our roads now. We see the police simply ignoring traffic misdemeanours. This is totally unacceptable!
5). Conversely, fear plays a major role:
Sometimes due to uncertainty, such as when a driver has been advised by their driving instructor to take a Code C1 licence, when they actually needed to drive a car, can leave many students unprepared to cope with a different vehicle. Other students have deep fear-related issues to cope with, such as the death of a loved one in a crash, or having been the victim of crime, or any form of trauma. Nobody entering a vehicle can cut themselves off from who they are. Their history and past experiences are who they are, and those influences get into the car with them.
6). Emotional and health-related issues play a very, very important role:
Worry or ill-health can affect all of us so that our driving standard is not as good as we would like at certain times of our lives. Anger such as when a relationship breaks up, or sadness, the loss of a job, or the death of a loved one all have an detrimental influence on our driving standard. This has a massive influence on our driving standard. We all like to claim to be good drivers, but our consciences remind us of those times when we too did something wrong and it is usually when we were upset or emotionally disturbed by something. This needs to be talked about, so that we can deal with it more effectively the next time something troubles us.
7). Corruption:
It is well-known in many circles that if driving instructors do not pay examiners for passes, innocent applicants are failed for minor indiscretions. As driving instructors we do not have any way to defend the pupils we have trained for many hours. We know our pupils' driving standard's because we have been with them, either alongside of them or standing watching them (in safe conditions), and we know they can perform all the requirements 100% correctly before we take them to be tested. Examiners claim they failed to perform actions which have become second nature, due to nerves. While we do agree that nerves are definitely a big problem, we do not always accept what they tell us. Bribery will apparently smooth these issues out. If examiners behave in a way as to calm and relax students and to encourage them a little, the pass rate would rise dramatically.
We will have nothing to do with corrupt examiners, so must we go out of business due to a lack of work due to an undeserved high failure rate? Where does that leave us personally, and how will that affect the country? There is no denying it. South Africa needs excellent drivers to be released onto our roads for every single function in the land.
The whole world mourns the death of a famous person. The country should mourn the death of every citizen. Corruption leads to death due to incompetent drivers having "accidents" which are directly caused by ignorance, bad attitudes and the misuse of alcohol, drugs both narcotic and steroids leading to road rage incidents, and a breakdown of society in general. The strength of a country is directly affected by lawlessness and reckless driving. High moral standards preclude any chance of corruption."
Pat Allen
National President: SAIDI

Also view: