Sandton, Johannesburg, 5 July – Last week, Discovery employees across South Africa gathered in their thousands to put their fitness to the test in the annual Discovery Marathon, which saw teams from all levels of the business completing an 89 km treadmill relay.
Discovery's senior management team led by example, with CEO Adrian Gore and the Discovery EXCO team partnering with legendary runner, Bruce Fordyce, to take on the challenge. The leadership team was joined by their colleagues from across the country, and every Discovery office replaced coffee with water, suits with running kit and chairs with treadmills – courtesy of Virgin Active – for a day.
The Discovery Marathon, now in its fifth year, is testament to how the organisation lives its cultures and values, promoting a healthy lifestyle and a good balance between work and physical activity. "At Discovery, we firmly believe in making people healthier, enhancing and protecting their lives," commented Gore. "The Marathon is just one of the ways in which we aim to breed and promote this culture."
25 teams competed nationally, and R11,2000 was raised and donated to the Laureus Sport for Good Foundation. The next challenge will be the much anticipated Discovery 702 Walk the Talk, which takes place on 24 July. And judging by the pictures, the Discovery team look ready!
Themba Baloyi, Insure Business Analyst sweats it out at the Discovery Marathon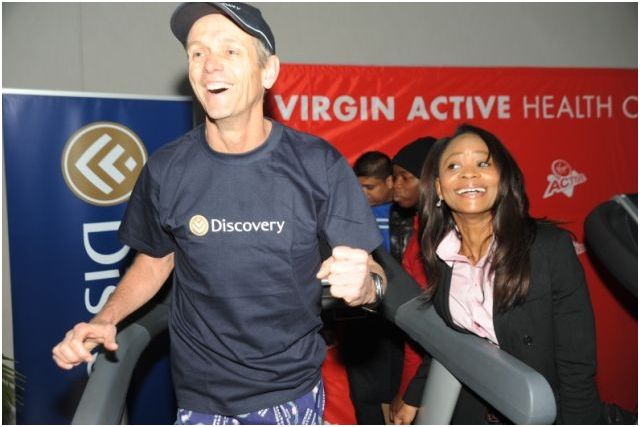 Bruce Fordyce, the world famous Comrades Marathon runner takes part in the Discovery Marathon
For More on Running and Road Safety also view:
Running/ Jogging and Road Safety