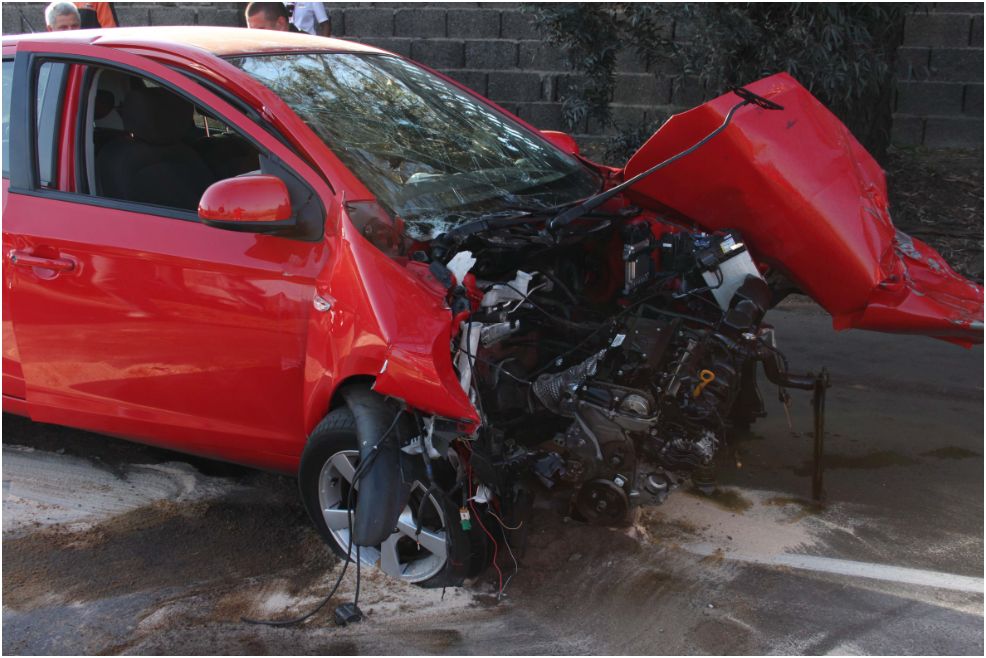 Two people have been left with serious injuries after a head on collision on Houer Road this afternoon.
The cause of the accident is not known, but the driver of the red hatchback seems to have lost control of her vehicle for some reason and the car and bakkie collided head on. The impact of the collision flung both vehicles in opposite directions with the bakkie landing meters away facing the opposite direction of initial travel and the vehicle had mounted to curb. The young man driving the vehicle was trapped in his seat and Fire and Rescue workers had to cut the roof off and door off the vehicle in order to get the man out. It took approximately 30 minuted to remove the crumpled metal from the vehicle and all the while ER24 paramedics stabilised the man who had sustained very serious injuries. Bystanders were shocked to see that the man was still awake and talking after they had seen the damage to the vehicle. Paramedics gave him some medication to ease his pain and once removed from the wreck, transported him per ambulance to Union Hospital in Alberton for further treatment.
The engine of the red hatchback had been ripped from its bay and it was clear to paramedics that the woman would need immediate Advanced Life Support treatment. The woman was in severe pain as she had multiple breaks to her limbs. She was taken out of the car, treated for her injuries and was also taken by ambulance to Union Hospital.
The Johannesburg metro Police Department Accident Investigation Unit attended the scene and will conduct all necessary investigations into the cause of the accident.
Vanessa Jackson, ER24