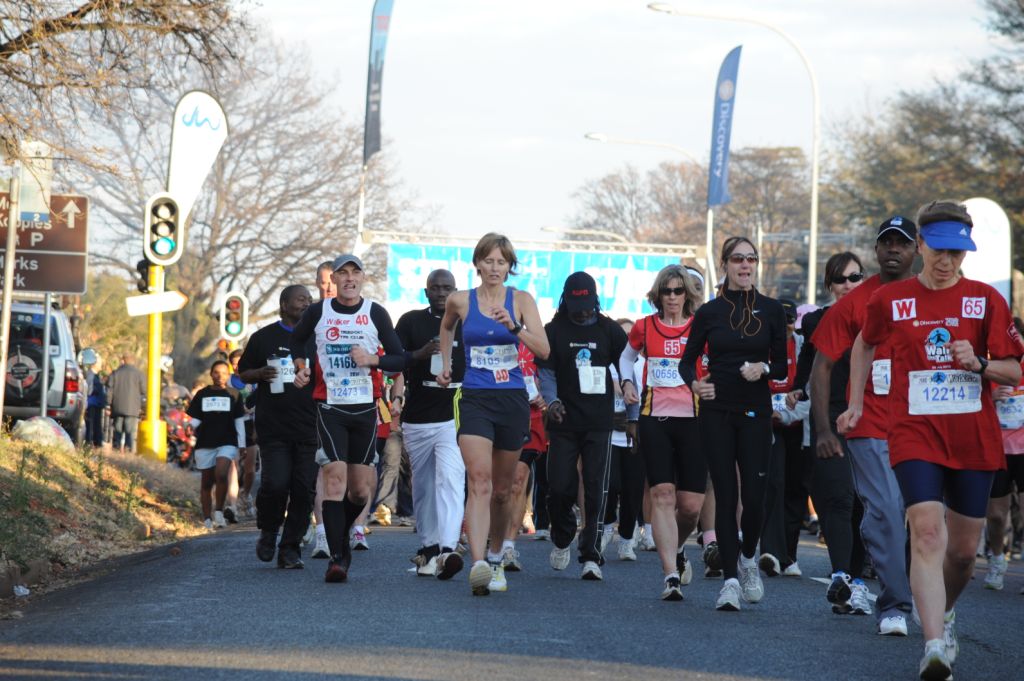 On Sunday, 24th July, 50 000 people will lace up their walking shoes and take to the streets of Johannesburg for the annual Discovery 702 Walk the Talk. Now in its 6th year, the Walk will also see local and international celebrities taking part, including Olympic swimmer, Mark Spitz, and our very own Shaun Pollock.
The event – the biggest of its kind in the world – promises to get South Africans of all ages walking, whether over the short 5km route, or the big 30km challenge. "The importance of regular physical activity should not be underestimated," commented Discovery's Head of sponsorship, Jody Foster. "According to the latest World Health Survey, almost half (46%) of all South Africans are classified as inactive, which is an extremely worrying statistic."
In fact, the 2010 Healthy Active Kids South Africa Report Card, sponsored by Discovery and the Sports Science Institute of South Africa, found that physical activity amongst the country's youth is, quite literally, in bad shape. While 80% of children from disadvantaged urban communities walked to school every day, only 11% of children from better resourced neighbourhoods did the same. And perhaps most shocking of all, given the choice, fewer than one in five would choose to walk or cycle to school at all.
As a direct response to this, the Discovery 702 Walk the Talk encourages kids' participation in the walk. This year, 6000 children have registered for the event, a fantastic achievement given the worrying statistics from the Healthy Active Kids Report Card.
"The benefits of walking are plentiful, and often underestimated," continues Foster. "In South Africa, we tend to see walking as a chore, something that is best avoided if other alternatives exist. However, the long and short term impact that walking can have on fitness, weight and general health and longevity, are extremely significant."
According to Talk Radio 702 station manager, Pheladi Gwanga, "The Discovery 702 Walk the Talk brings together people from all walks of life from across Joburg. It is a great community builder and a highlight on the station's calendar."
For further information, see Discovery's top 5 walking tips at the end of this release.
The Discovery 702 Walk the Talk 2011 kicks off at Marks Park at 6.30am on Sunday, 24 July. For further details, please go to: http://www.walkthetalk.co.za/.
Discovery's Top 5 Walking Tips
1) Make walking part of your daily routine
Vow to take the stairs instead of the lift, walk – don't drive – to local shops, go for a lunchtime meander…There are many ways to build walking into your daily routine. And remember, once it becomes a habit, you'll keep it up without even thinking about it.
2) Count the calories
Did you know that you can lose over 300 calories by walking 5km? That's breakfast – gone. And by walking 3km a day, three times a week, you can reduce your weight by 0.5kg every three weeks! Walking also alters fat metabolism, so that fat is burned up instead of sugars, helping you reduce weight over the long term.
3) Swap wine for walking
Walking relieves stress, anxiety and depressing. Quite simply, it puts you in a good mood after a rough day. So why not swap the glass of wine or pint of beer for a walk at the end of the day?
4) Don't forget the 'talk test'
A simple way to work out how briskly you should walk is to aim to walk fast with overexertion. You should just about be able to hold a conversation while you are walking – the 'talk test'. Plus it's so much more fun to walk and talk!
5) Fitness comes first, but don't forget to stretch
Start off your walk at a leisurely pace to give your muscles time to warm up. Then pick up the speed after a few minutes. A gradual cool down will also prevent stiffness and injury post-walk.
Also view:
Physical Fitness for Driving and Road Safety