Do you believe that the tyre pressure reading received from the attendant at the petrol station is correct? Is it not perhaps time to consider purchasing your own pressure gauge? We would like to share an email received from a visitor to the Arrive Alive website which we also discussed on the Car Insurance Blog
Question:
"I'd like to enquire as what regulations are enforced to verify the accuracy of tyre pressure gauges at petrol garages across South Africa?
This was brought to my attention this morning, in Cape Town, when I went to check up my local BP. The readings indicated 3.9 bar on my front tyres and above 2 bar on the rear. This seriously concerned me, so I then set the pressures to the manufacturer's specifications. I then proceeded to an Engen garage nearby, where it indicated that different readings, all indicating over inflation. I drive a citi golf and the tyres have been recently replaced and no older than 10,000km.
Please could someone respond as I feel this is a serious issue for motorists out there who rely on these garage readings as accurate."
Response by Bridgestone:
We have heard of this problem on numerous occasions and conducted our own survey in 2008 as attached.
Tyre Manufacturers are not responsible for enforcing regulations at petrol stations and as we are aware that the tyre pressure gauges are inaccurate, Bridgestone always promotes to motorists that they purchase their own tyre pressure gauge and check the pressures themselves, to avoid inaccurate readings and damage to their tyres.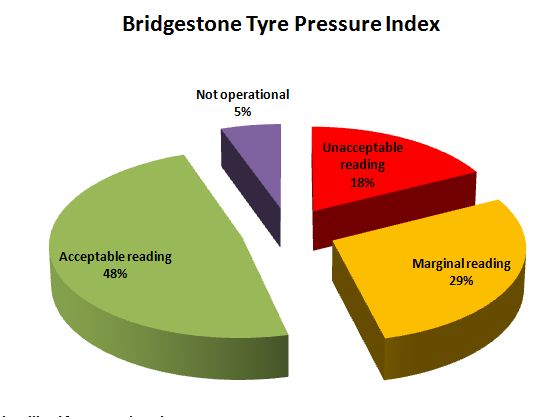 Criteria utilized for research project:
A tyre (Size 175/14) was used for pressure readings. The tyre was placed in the luggage compartment of the vehicle to negate heat build up.
The test tyre was inflated to 2.0 bar pressure in Johannesburg utilizing a calibrated VDO tyre gauge.
This tyre was then utilized to record pressure readings at various venues on the N3 between Johannesburg and Escourt in KwaZulu Natal
Altitudes were also recorded at each test venue to allow for the effect of altitude on readings.
Prior to the start of pressure readings at each venue, the tyre pressure was again checked utilizing the same VDO calibrated gauge. This was to compensate for any marginal loss of pressure whilst testing.
PRESSURES RECORDED IN GREEN indicate tyre pressure gauges that record an acceptably accurate reading.
PRESSURES RECORDED IN ORANGE indicate tyre gauges that record a marginally acceptable reading.
PRESSURES RECORDED IN RED indicate tyre gauges that record a totally unacceptable reading.
Cognizance must be taken that over-reading of actual tyre pressures may result in tyre pressures being reduced to bring pressures into line with vehicle manufacturer recommendations. This activity in itself, would have potentially negative effects and increase risk of a tyre blowout with the tyre now being under-inflated, however combined with potential heat build up within the tyre compounding the problem, the chances of a greatly under-inflated tyre becomes a serious risk factor to the motorist.
We would like to urge all vehicle owners to pay close attention to tyre safety and view the following sections: