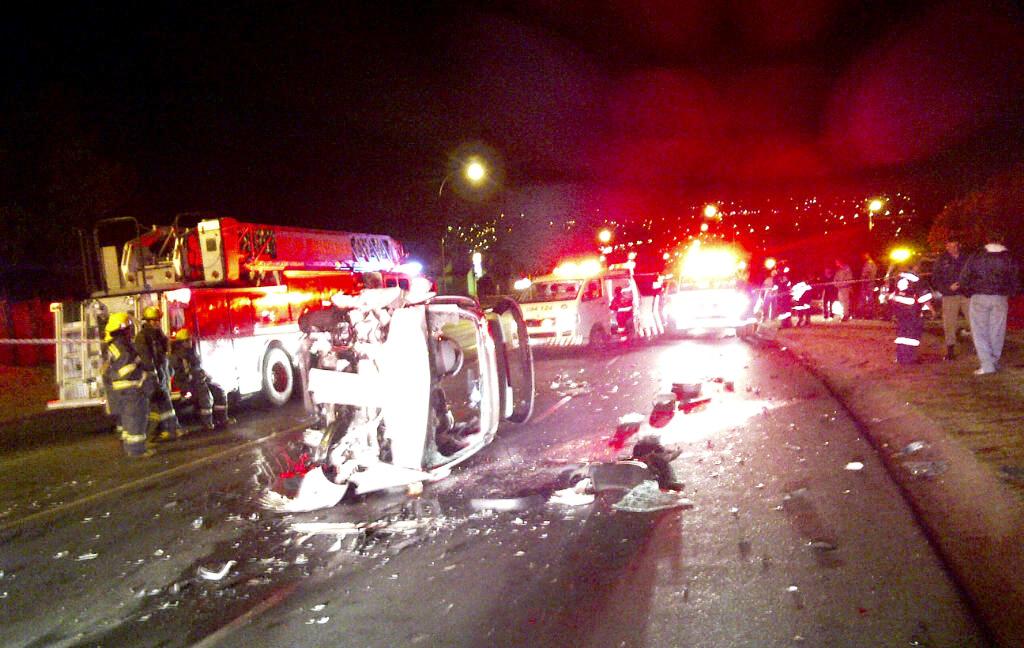 Emergency personnel in Johannesburg had their hands full yesterday evening as multiple motor vehicle collisions occurred throughout the city.
The ER24 control centre received call outs to 20 motor vehicle collisions between 17:00 Friday evening and 08:00 Saturday morning. A senior staff member of the company was making his way home from the office when he witnessed a horrific collision in Roodepoort.
A bakkie and a SUV had collided head on at an intersection. The collision was severe as the bakkie overturned after the initial impact and rolled over 4 pedestrians waiting for a taxi at the side of the road. Fortunately all the occupants involved in the collision sustained moderate injuries only.
Then at 19:20 another severe collision occurred in Newlands when a bakkie rear-ended a sedan passenger vehicle at high speed. The driver of the bakkie, a male aged 44, had sustained severe injuries to his chest and received on-scene treatment from paramedics. He was later transported to Flora clinic for further medical treatment.
The single occupant of the sedan also received treatment for suspected back and neck injuries. He was treated at the scene before being transported to Flora clinic by another ambulance service.
At the stroke of midnight a second serious head-on collision occurred again in Roodepoort as a Chevrolet Spark and Hyundai Atos collided at the corners of C.R Swart and Naboom road.
When ER24 paramedics arrived at the scene they could see that the collision was severe judging by the amount of damage sustained to the Hyundai. The vehicle had overturned onto its left hand side after the initial impact. The single occupant, a male believed to be aged in his 20's, was still entrapped in the vehicle. Paramedics had to break a window and force open a door in order to free the man from the wrecked vehicle.
The driver had sustained multiple fractures to his legs as well as suspected back and neck injuries. He received on-scene treatment and stabilisation before being transported to Flora clinic for further medical care.
The driver of the Chevrolet had sustained a severe head injury as well as significant facial trauma. Paramedics performed Advanced Life Support treatment on the injured gentleman, aged 20, before rapidly transporting him to Flora clinic. Local law enforcement authorities who attended the scene will be investigating the incident further.
ER24 would like to advice road users in the greater Johannesburg area to take caution whilst using the roads this weekend. Always considered your own safety and that of your passengers whilst driving and pay attention to the vehicles around you.
Andre Visser, ER24