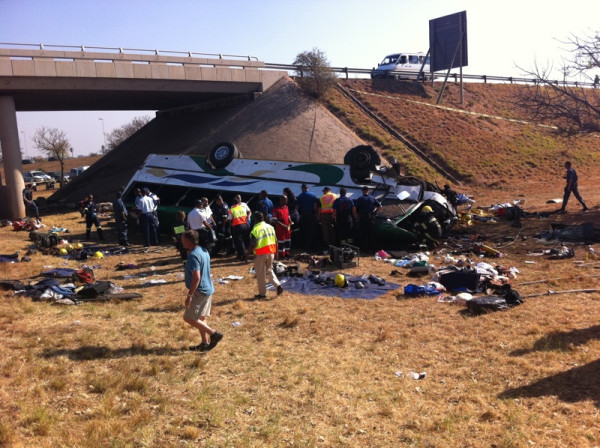 A bus accident on the N1 in the direction of Pietersburg at the Murrayhill Bridge has left 5 dead and approximately 50 others with various injuries.
The full bus, believed to have been on its way to Zimbabwe, lost control before allegedly crashing into the cement pillars of the bridge and then overturning. Emergency Personnel who arrived at the scene found that the bus had rolled down a short embankment before coming to rest on its side. Most of the occupants had managed to climb from the wreckage and were found walking around at the scene or trying to help their injured loved ones.
5 people were declared dead at the scene after sustaining extensive injuries in the accident. Amongst the injured were approximately 5 small children of whom 1 had sustained critical injuries. Another 3 people had sustained critical injuries, one of whom was airlifted from the scene by a Medicopter. Two of these patients were actually entrapped in the wreckage and Fire and Rescue Services battled to free them.
Approximately 30 more people involved in the accident needed treatment at the scene and further transport to hospital were all surrounding emergency services were called for assistance. Another 15 people had not sustained any physical injury in the accident and they waited to collect their belongings from the bus before they would be removed privately from the scene.
The local law enforcement were at the scene for investigation purposes.
Vanessa Jackson, ER24