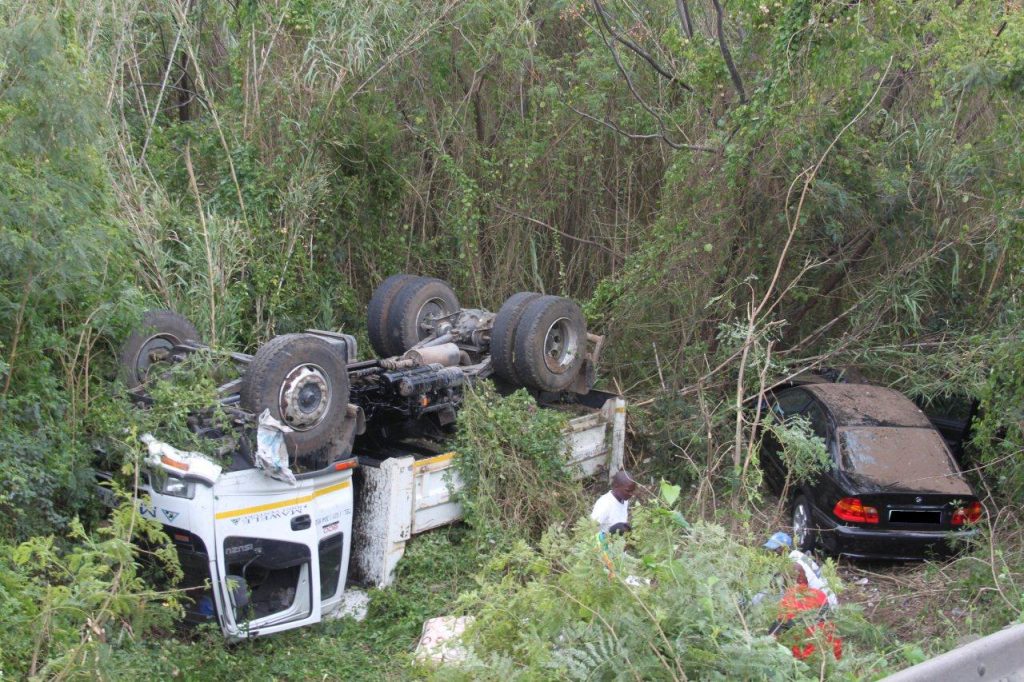 A collision involving a truck and two light motor vehicles on the N2 North bound just past Booth Road and 1km before Spaghetti Junction left two drivers with serious injuries and a third with only minor injuries this morning.
ER24 paramedics arrived on the scene and found a truck down an embankment on its roof. A black BMW was found a few meters away next to the truck, still on its roof but with extensive damage to the front of the vehicle. A white VW Polo was up against the Armco barrier and nearly over the edge of the embankment. The driver of the truck was found seated on the embankment and was complaining of back pain. Advanced Life Support intervention had to be performed on the patient before he was carried up the embankment on a specialised board.
The driver of the BMW was found on top of the road side. She had been helped by members of public to the top before emergency personnel had arrived. She had suffered minor burns to her arms and was complaining of her ribs been sore. She was also treated for possible neck and back injuries. The third driver of the Polo was fortunate enough to have sustained very minor injuries and was taken by her husband to a nearby hospital for further medical care. The two serious patients were transported to Life Entabeni Hospital.
The necessary authorities were on the scene and would investigate the accident further to see who was at fault. One lane of the four lane freeway was closed to traffic.
Derrick Banks, ER24