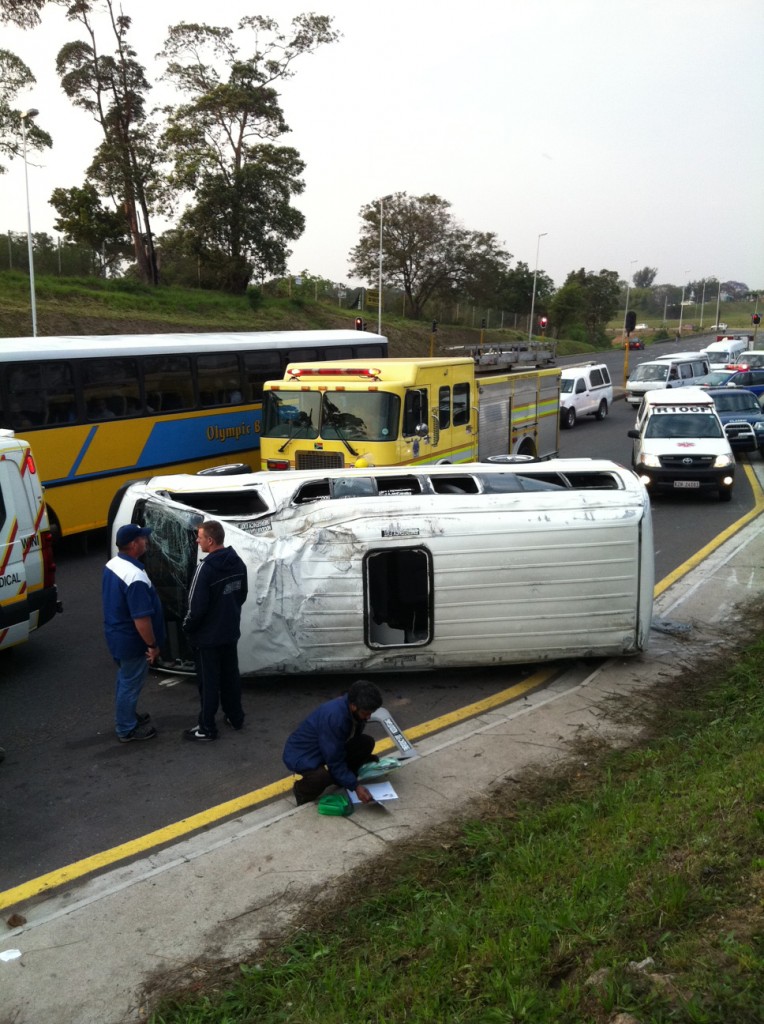 [Pinetown 29 September 2011 05:45]
11 people have sustained various injuries after a taxi and VW Golf collided on Richmond Road in the direction of Pinetown, just after the intersection with Westmead Road.
The ER24 paramedic who arrived first at the scene found the taxi lying on its passenger side, lying almost in the left hand lane or the road, but mostly on the roadside, into the designated area for pickup of passengers. The 11 occupants of the taxi were found to have all managed to climb from the wreckage, and most of them were found walking around the damaged taxi. 3 people were complaining of severe back and neck pain, and after assessment were found to have suffered multiple other injuries in the form of deep cuts and bruises to their bodies. As the ambulance arrived, the paramedics placed the 3 people on back stabilising boards, and took them to a nearby hospital for further treatment. The other 7 occupants of the taxi were treated on scene for minor injuries and they too were taken to hospital for further care.
A VW Golf was found to have been damaged on its front end, but at this stage it is not clear as to how the collision initially occurred, as the taxi had rolled and was extensively damaged. The male occupant of the Golf was not injured in the accident.
One lane of the road will remain closed to traffic until the scene is cleared and the taxi removed.
Vanessa Jackson, ER24