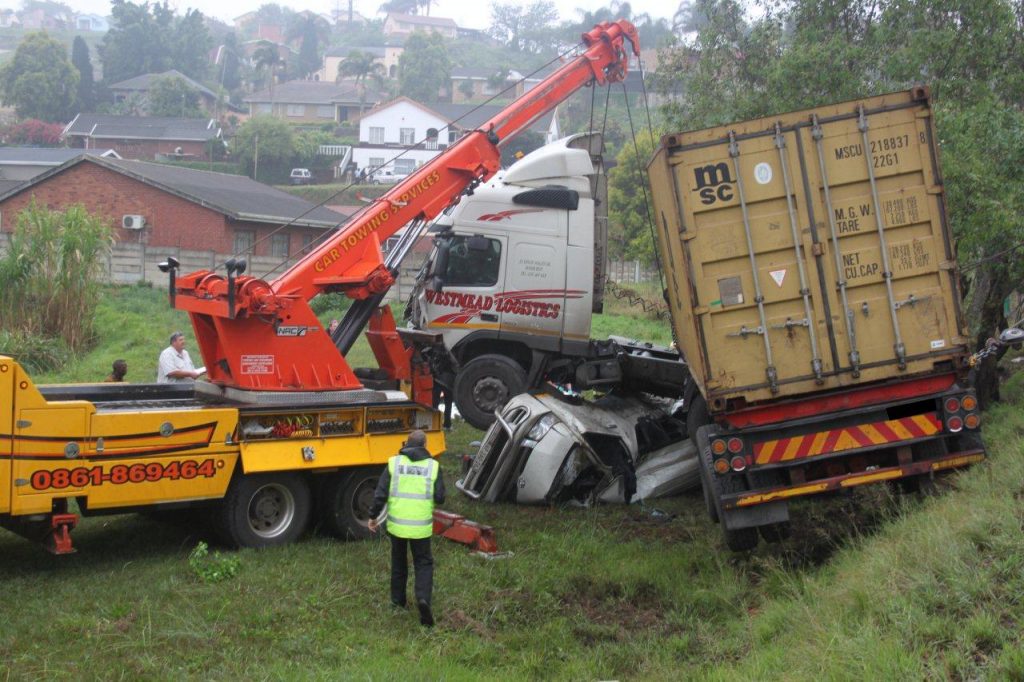 [PIETERMARITZBURG – 30 SEPTEMBER 2011 AT 08H00]
Thirteen people have lost their lives and seven other people have sustained multiple injuries after a taxi and a truck collided into one another on the R33 ( New Grey Town Road ) in Alandale just outside Pietermaritzburg this morning.
Emergency personnel arrived on the scene and found the taxi underneath the front part of the truck which had gone down an embankment and came to rest. The driver of the truck had already climbed out and was unhurt in the accident, was found seated on the bank and in shock to see what had happen. The commuters in the taxi were entrapped and needed rapid emergency medical care.
Two heavy duty big rig tow trucks were called to the scene to help stabilise the articulated truck. The first one was to stabilise the container and trailer, while the second vehicle was used to hoist the front part of the truck off the taxi so emergency personnel could get in to the taxi that was completely mangled under the tyres of the truck.
SAPS Search and Rescue, local Fire Department and other emergency personnel used the Jaws of Life and other hydraulic equipment to gain access into the taxi.
Unfortunately 13 people had already lost their lives in the accident including a young child. Three commuters were in a critical condition and needed Advanced Life Support intervention to be performed on them. They were intubated and placed on a ventilator and rushed off to a nearby hospital for further medical care.
Three other people sustained serious injuries and the driver of taxi only sustained minor injuries. All patients were treated and stabilised before going to hospital. The driver was detained by the local SAPS for further questioning.
It is believed that the taxi driver came onto oncoming traffic, side swiping a light motor vehicle and colliding head on with the truck that was coming in the opposite direction. The impact caused the two vehicles to go off the road. The local authorities were on the scene and would investigate the accident further.
Derrick Banks, ER24