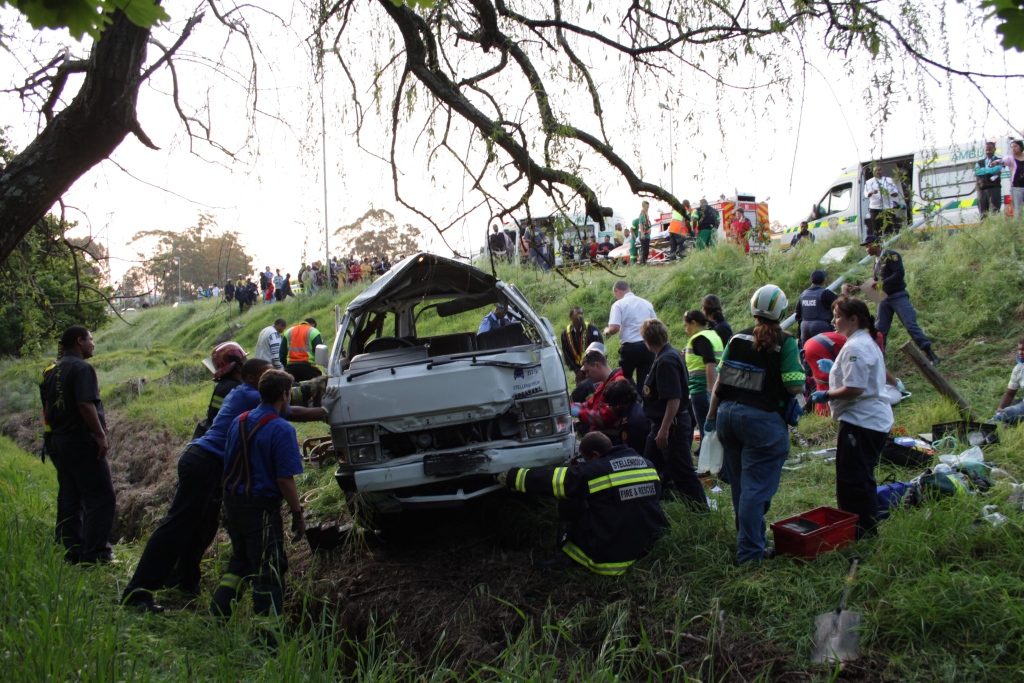 STELLENBOSCH 27 September 2011, 17:15
A serious minibus taxi collision occurred this afternoon on the Hellshoogte, R310 road in Stellenbosh.
The events leading up to the collision is still unclear, but the single vehicle, a Toyota Hi-Ace minibus taxi, had veered from the road before going down a steep embankment. The taxi then collided into a streetlamp before overturning multiple times before coming to a standstill 15 feet down the embankment a few feet away from a stream. As the vehicle overturned it ejected the occupants from the vehicle.
When ER24 paramedics arrived at the scene they could see the collision was severe. Multiple occupants were scattered across the incident scene. Injuries ranged from multiple scrapes and bruises to fractured bones. Due the severity of the incident and the amount of casualties at the scene the ER24 Discovery Medicopter was dispatched to the scene.
3 occupants were found trapped under the wrecked minibus taxi. Both of the legs of the taxi driver were entrapped under the vehicle. A pregnant female was entrapped under the rear axle of the vehicle. Both of the severely injured patients were extricated from under the vehicle before being transported to hospital.
The third occupant, a female in her 30's, was severely entrapped under the front axle of the wreck. Due the position of the wreck the female could not be extracted from her position by conventional means. The Provincial Department of Health EMS rescue service, Rescue 6 vehicle was called to the scene to lift the taxi off of the injured occupant. The female was entrapped under the taxi for approximately 2 hours.
The patient had sustained severe injuries to her back and pelvic region. She was treated and stabilised at the scene before being airlifted to Groote Schuur Hospital for further medical care. With outstanding communication and cooperation between ER24 and the Provincial Government Department of Health EMS, ambulance and rescue services a total of 15 patients were treated and transported to various hospitals in the surrounding area.
Local law enforcement authorities who attended the scene will be investigating the incident further.
Andre Visser, ER24