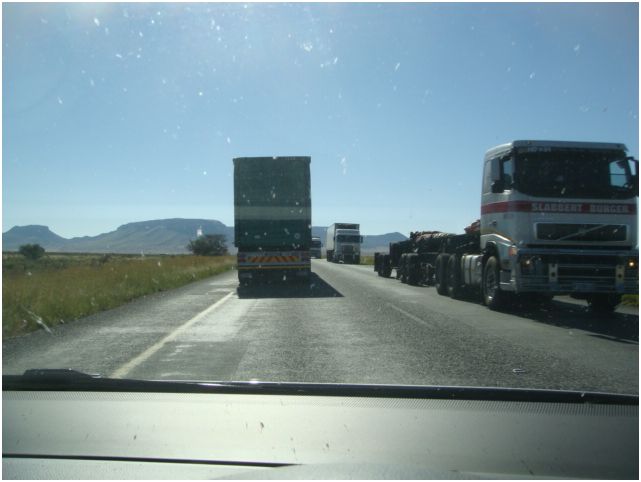 How often have you been travelling on the roads at night and only at the last minute see a heavy vehicle travelling slowly in the same direction as you? This risk of not seeing a heavy vehicle at night is often further aggravated by poor visibility resulting from rain and mist.
The importance that drivers and operators ensure that their vehicles are visible at all times and especially at night cannot be stressed enough as recent statistics seen on a major transport route in South Africa indicates that "Head Tail" crashes make up over 25% of all incidents on that route- with better vehicle visibility this could be reduced.
The National Road Traffic Act in Regulations 157, 158, 168, 191, 192A specifies in detail the legal requirements with regard to rear lamps, visibility distance, rear chevron signs and side and rear retro-reflective contour or strip markings on various sizes and types of vehicles.
Regulation 168 specifies the position of primary set rear lights relative to the ground and the outer end of vehicle. It also states that – (4) Rear lamps fitted to motor vehicles in addition to those prescribed in this regulation may be fitted higher than 2,1 meters above ground level. Additional high rear surface lights that assist in making a vehicle more visible can therefore be fitted on a vehicle with a high rear surface area.
Chevrons plates must be fitted to the rear of heavy vehicles and drivers and operators must ensure that these chevrons are always clean and in good condition. The plates often get damaged and dirty as they are close to the ground and being at the rear often get covered in road grime and mud. This is especially a problem with tipper type vehicle.
According to a 2003 requirement, side and rear retro-reflective material being displayed on the rear of a heavy vehicle. Head lights on while driving at any time of the day or night greatly increases vehicle visibility to other road users and although not a legal requirement in South Africa is a recommended practice that ALL VEHILCES should be encouraged to follow. This is also a "Lead SA" initiative currently being promoted.