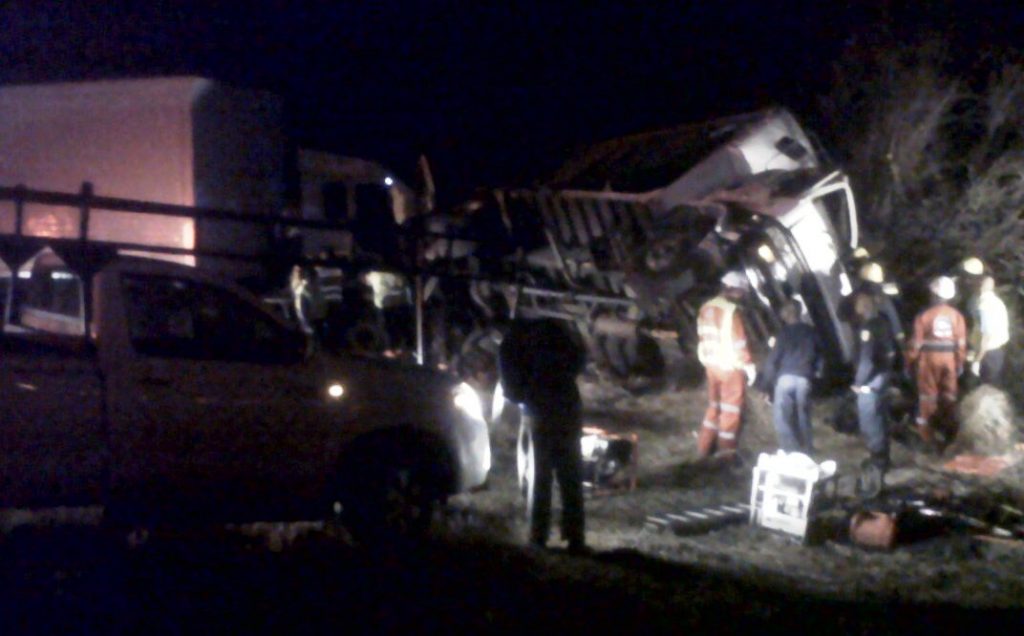 Two serious truck collisions occurred yesterday in the Freestate.
The first collision occurred shortly before 15:00 on the N5 highway ten kilometres outside Senekal in the direction of Bloemfontein. A veld fire had occurred close to the road and made for adverse driving conditions as a large cloud of smoke had engulfed the area.
Two trucks had allegedly collided head-on at speed. When ER24 paramedics arrived at the scene they could see the collision was severe as both vehicles had sustained severe damage. Both trucks had one occupant only. Fortunately both men had sustained minor injuries only and received on-scene treatment before being transported to a nearby medical facility. The road was closed for traffic for some time as the wrecks needed to be cleared from the road.
Then shortly after 23:00 two trucks collided head-on, on the N1 highway twenty kilometres outside Bloemfontein.
The collision was severe as one of the vehicles was obliterated in the collision and had overturned onto its side. ER24 paramedics assisted the local fire and rescue services as hydraulic rescue equipment was used to cut the wreck in order to free the two occupants. Both males had sustained possible fractures to their legs and were treated at the scene before being transported to Mediclinic Bloemfontein for further medical care.
The single occupant of the other truck sustained minor injuries and received treatment from another ambulance service. Local law enforcement authorities were at the scene and will be investigating the incident further.
Andre Visser, ER24