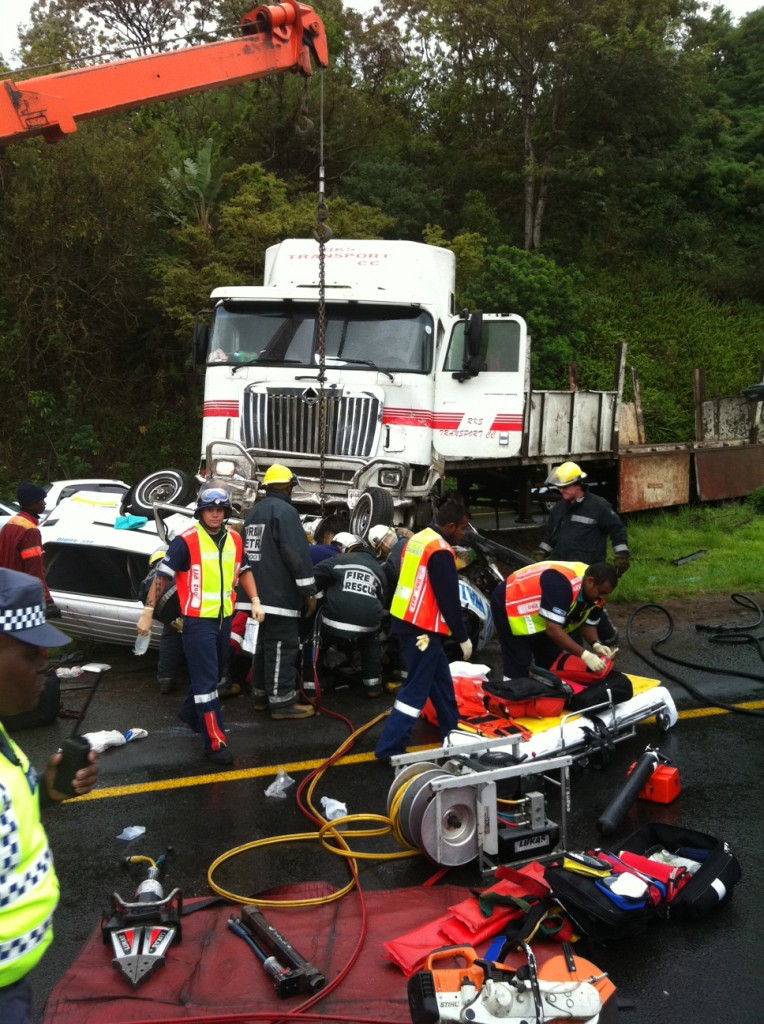 [Durban 27 September 2011 14:00]
A woman and a baby have been killed in a collision on the M7 in the direction of Durban near the Hans Dettman road offramp.
The initial cause of the accident is not known, but the super-linked truck was completely over the taxi, the truck having come to rest partly in the offramp as well as the left hand lane of the freeway.
A woman and a baby of unknown age, were trapped underneath the taxi, sadly having already succumbed to extensive injury in the accident. Another two women were trapped inside the wreckage, having suffered serious injuries. The other 11 occupants from the taxi needed treatment for moderate to serious injuries and some were found walking around the scene.
An Isuzu bakkie was also involved in the collision, and at this stage it is not clear how the 3 vehicles came to collide with one another. The double cab bakkie came to rest on its roof, and was extensively damaged. The two occupants were found lying near the vehicle, believed to have been ejected after the impact. Both of them was in need of immediate Advanced Life Support Treatment. The bakkie was transporting computer screens at the time, and these were found strew across the freeway.
A heavy duty towing vehicle was called in to lift the truck off the taxi in order for the Fire and Rescue Workers to be able to use the Jaws of Life in order to cut away at the metal to free the two trapped women.
Derrick Banks, ER24