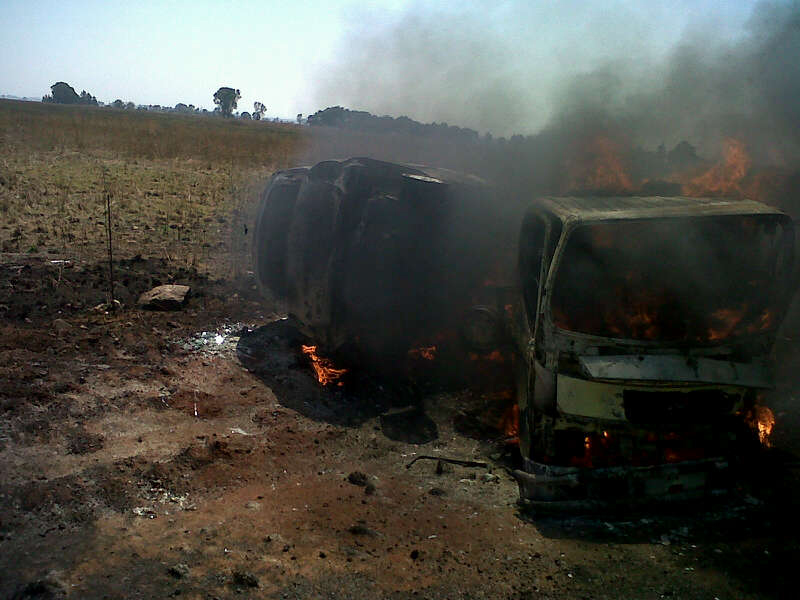 Two vehicles collided almost head on, on the Lindequesdrift Road approximately 100 meters past the N1 turn off.
Neither of the two occupants of the vehicles really know what happened, but the Opel Corsa rolled onto the side of the road, coming to rest of the passenger side after it is believed that the two vehicles collided. The small towing vehicle landed on its wheels right up against the Corsa and both vehicles burst into flames shortly thereafter. Fortunately, passing motorists stopped to assist, and they pulled the woman from the Corsa and the man from the towing vehicle. Neither of them sustained any burn wounds in the incident thanks to the quick thinking of the bystanders.
Both vehicles were completely burnt out, and the two patients were treated for minor to moderate injuries. The woman needed to be placed onto a spine board as she was complaining of severe back and neck pain as well as a possible broken collar bone. She was taken to Mediclinic Emfuleni for further treatment.
The driver of the two truck sustained relatively minor injuries and he too was taken to a nearby hospital for treatment.
Vanessa Jackson, ER24
Also view: Escape and Safety from Vehicle Fire