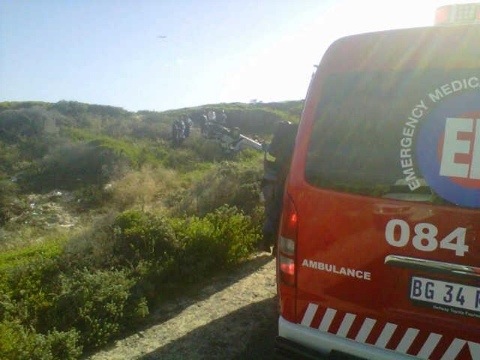 MITCHELLS PLAIN 23 October 2011, 15:15
4 people have sustained various injuries this afternoon when the vehicle they were traveling in left Baden Powell drive before overturning multiple times.
The cause of the collision is unknown, but a late model Toyota Corolla had allegedly left the road before overturning multiple times and ejecting all its occupants onto the road. The vehicle had 2 male occupants and 2 female occupants.
One of the female occupants received on-scene treatment for a suspected hip and chest injury. A male occupant had sustained a severe head injury. Both occupants were treated at the scene before being transported to a nearby medical facility.
The other 2 occupants were treated and transported to hospital by the Western Cape Provincial Department of Health: Emergency Medical Services. Local law enforcement authorities who attended the scene will be investigating the incident further.
Andre Visser, ER24