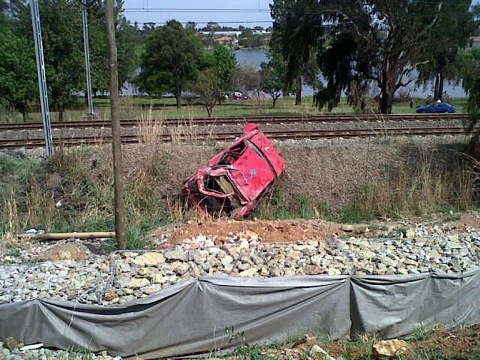 [Benoni 15 October 2011 15:45]
A red hatchback with two occupants left the N12 near the Snake Road exit this afternoon coming to rest almost on the train tracks nearby.
Not only did the two men suffer relatively minor injuries in comparison to the damage seen on the vehicle and the mechanism of the accident, but the vehicle landed just meters short of the train tracks, which are frequently in use.
Paramedics found both men, appearing to be in their 30's, out of the vehicle and walking around at the scene. They were quickly assessed and treated for their injuries. The front passenger was allegedly flung from the vehicle as it rolled, and he was treated for moderate injuries and taken to the Life Glynnwood Hospital. The driver had sustained minor injuries, and he was taken to Tambo Memorial Hospital for further assessment.
Paramedics said that just as the patients were removed from the area and taken to hospital, a train passed the scene. The two men were very lucky to have only sustained the injuries that they had.
The cause of the car leaving the road and overturning will be determined by investigators, and there were no other vehicles involve in the accident.
Vanessa Jackson, ER24