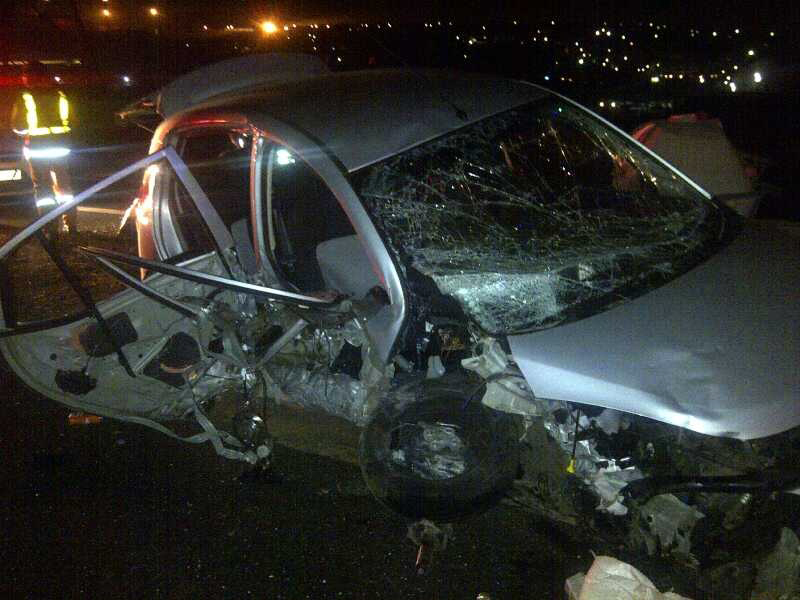 [Alberton 25 October 2011 23:00]
A middle aged man has been killed in Alberton after his car allegedly collided into a concrete barrier on the N12 near the N3 split.
The man was the only occupant of the vehicle, and the hatchback is believed to have been the only vehicle involved in the collision. When the ER24 paramedics arrived at the scene, the car was still in the road, while the driver had been ejected from the driver's seat and was lying near the car. It appeared that he had died during the impact from the severe injuries that he had sustained. Upon assessment, the man displayed no signs of life and there was nothing more that could be done for him. Paramedics declared the man dead at the scene.
It appears that the driver man have lost control of the car for some reason, after which the car spun out of control and collided with severe force into one of the concrete barriers in the road. Paramedics explained that the damage to the vehicle was so extensive that it looked like parts of the drivers side of the car had been ripped from the body. This particular stretch of road has been under construction for some time.
The cause of the accident is not yet known and will require the necessary police investigations determining what actually caused this tragic accident.
Vanessa Jackson, ER24