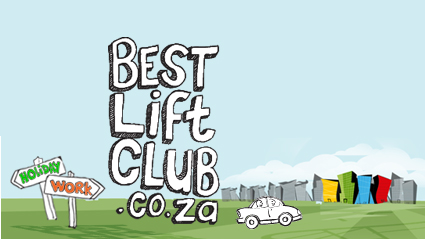 LIFT CLUB PORTAL WILL SAVE PETROL AND CARBON WHILE IMPROVING SAFETY
Johannesburg, October 2011. – Eqstra Fleet Management (EFM) announces the launch of the Best Lift Club portal, during National Transport Month. This service will deliver convenience and savings to cash-strapped commuters, while improving safety on the roads.
With COP 17 being hosted in Durban this year and the Carbon Tax Green Paper which was open for public discussion; it is imperative that companies find initiatives that will assist to offset their carbon emissions. As a fleet management company with over 40 000 vehicles under their control Eqstra understands this more than anyone.
EFM conducted extensive market research prior to embarking on this project which showed that there was already a considerable demand for a lift[1] club service. When asked whether an on-line database of motorists in their neighbourhood would be appealing, 62% agreed it would be, while 69% would welcome a similar database showing motorists in their company.
In turn, 65% of organisations said they would like a database allowing employees to easily form lift[1] clubs, and 77% said they would promote such a database to their employees.
"Lift clubs can deliver benefits to individuals and society at large, yet so far their use in South Africa is limited," says Murray Price, EFM's managing director. "The Best Lift Club portal is designed to offer one-stop shop for all commuters that is easy to access and safe to use."
By joining a lift club, you can save on petrol and toll fees, while also reducing your carbon emissions and helping the planet. In addition, lift clubs help to reduce traffic congestion and road wear and tear, making the roads safer for all road users. Using the Best Lift Club portal allows you to search for lift clubs online, start a club, or search for other members on the same route. Registration on bestliftclub.co.za is free, with handy calculators supplied to work out travel costs and carbon savings.
The service is being launched with an initial registration drive. Once critical mass is reached, route matching notifications will be delivered to everyone registered on the site to enable clubs to get up and running.
Gauteng MEC for Transport Ismail Vadi will be part of the launch of this project with the aim of building an on-going partnership between Eqstra and the Gauteng Department of Transport. "Traffic congestion is a major problem in the province. By using lift clubs and public transport, the roads can be made safer and more pleasant for everyone," he says.
"What is most exciting about this project is the fact that it also takes into account the use of public transport through the Gautrain feeder lifts where corporates are encouraged to set up pick up point between Gautrain Stations and their offices. This will encourage more employees to make use of the Gautrain daily." Says Vadi
EFM fully supports the Decade for Action on Road Safety. "We are identifying areas where we can collaborate with the Gauteng Department of Transport," says Price. "Once these areas have been identified, we will take action on. We are also offering training to school bus drivers to decrease the number of incidents involving school children. Through the platform EFM also wants to visibly promote wearing of the Decade for Action on Road Safety badges"
EFM is part of Eqstra Holdings, the integrated capital equipment and leasing group, which services passenger and commercial markets, as well as the industrial, construction and mining sector. It is primarily a business-to-business organisation focused on managing capital assets.
ABOUT EQSTRA FLEET MANAGEMENT
Eqstra Fleet Management provides a full range of fleet management services underpinned by two core products, Full Maintenance Lease and Operating Lease. Originally known as Imperial Fleet Services, the company has operated in South Africa for 27 years. With an owned and managed fleet in excess of 40 000 vehicles and an asset base of over R1,8 billion,
EFM delivers a wide range of solutions to a diverse customer base.
Also view: