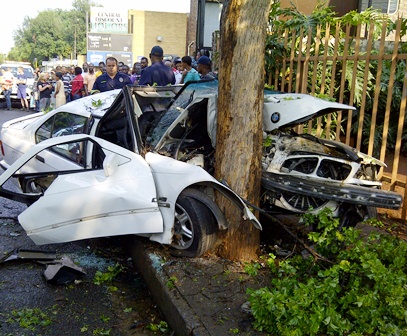 [KEMPTON PARK – 30 OCTOBER 2011 AT 07H00]
One person has been killed, another is in a critical condition and two more people have sustained serious injuries after the car they were travelling in left the road on Long Street in Kempton Park and crashed into a tree this morning.
Emergency personnel from ER24 and the Fire Department arrived on the scene and found the BMW firmly stuck into the base of the tree. The four occupant of the vehicle, all males were still inside the vehicle. The driver was entrapped and was in a critical condition. The Jaws of Life and other hydraulic equipment were used to extricate him from the vehicle while paramedics stabilised him further. The back passenger behind the driver unfortunately had already succumbed to his injuries and was declared deceased on the scene. The remaining two passengers who were not entrapped were treated for serious injuries. The three patients were transported to a nearby hospital for further medical care.
It is believed that wet weather could have played a role in the driver losing control of his vehicle and veering off the road and crashing into the tree.
Derrick Banks, ER24