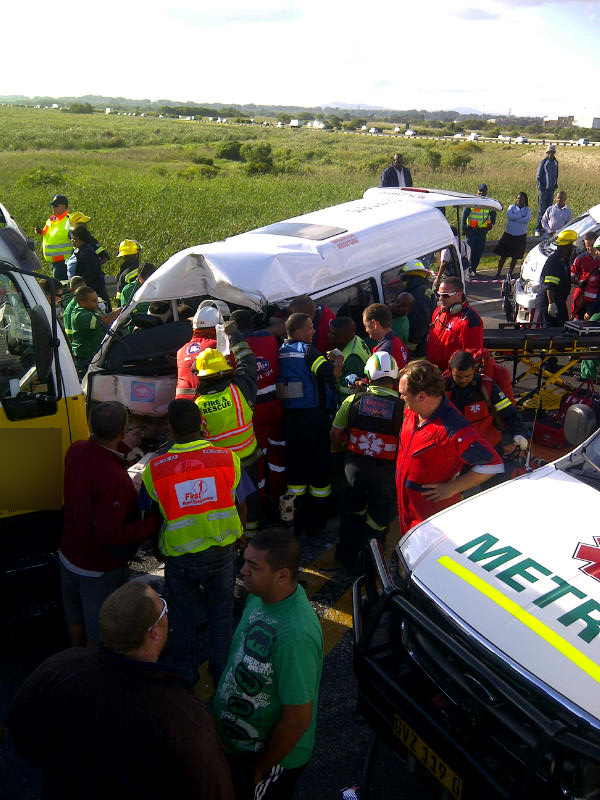 [Somerset West 26 October 2011 16:30]
A taxi collided head on with a truck on Baden Powell Drive at the N2 this afternoon leaving 14 people with various injuries.
ER24 paramedics that attended the scene explained that some of the occupants of the taxi said that the driver tried to avoid a head on collision with another vehicle seemingly having veered out of its lane when the truck came past and the taxi instead collided head on with the truck. The front of the taxi was extensively damaged, and the front occupants and those in the rear front seats were most severely injured.
The woman who was sitting in the front of the taxi next to the driver was in a critical condition. She had a severe injury to her lower leg and her foot had been cut from the limb during the impact. Paramedics airlifted the woman to the Tygerburg Hospital with the ER24 Discovery Medicopter so that she could receive the necessary treatment she required as soon as possible.
The other 11 patients who were in the taxi were trapped inside as the doors would not open due to the damage to the body of the vehicle, so Fire and Rescue workers needed to cut the vehicle open to free the occupants. 3 of them were in a serious condition and the remaining 8 patients, including the youngest, a 16 year old girl, were treated for minor to moderate injuries before being taken by ambulance to various hospitals.
The two occupants of the truck sustained minor injuries and they too were taken to hospital.
A states vehicle collided into the back of the truck shortly after the first accident, but fortunately none of the occupants were injured.
All Emergency Services who attended the scene, including those from the Department of Health Provincial Government Services worked hand in hand to ensure the appropriate treatment of every patient on scene.
The accident will be investigated by the necessary officials.
Vanessa Jackson, ER24