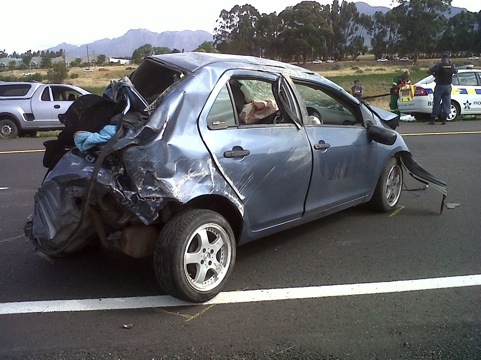 PAARL 26 November 2011, 15:30
1 motorcyclist has died and another has sustained serious injuries after 2 motorbikes collided with 1 car on the N1 highway near Paarl this afternoon.
The cause of the collision is still unknown, but when ER24 paramedics arrived at the scene they could see that the collision was severe judging by the amount of damage sustained to the motor vehicle. The one motorcyclist was found without a pulse and was not breathing. On-scene paramedics initiated resuscitation efforts on the man, but to no avail as he was later declared dead at the scene.
The second motorcyclist was treated at the scene for a broken leg before being rapidly transpired to Mediclinic Paarl for further treatment.
There were 2 occupants in the motor vehicle. Both were treated at the scene by the Western Cape Provincial Government Department of Health, Emergency Medical Services before being transported to a nearby medical facility.
Local law enforcement officials who attended the scene will be investigating the incident further.
Andre Visser, ER24