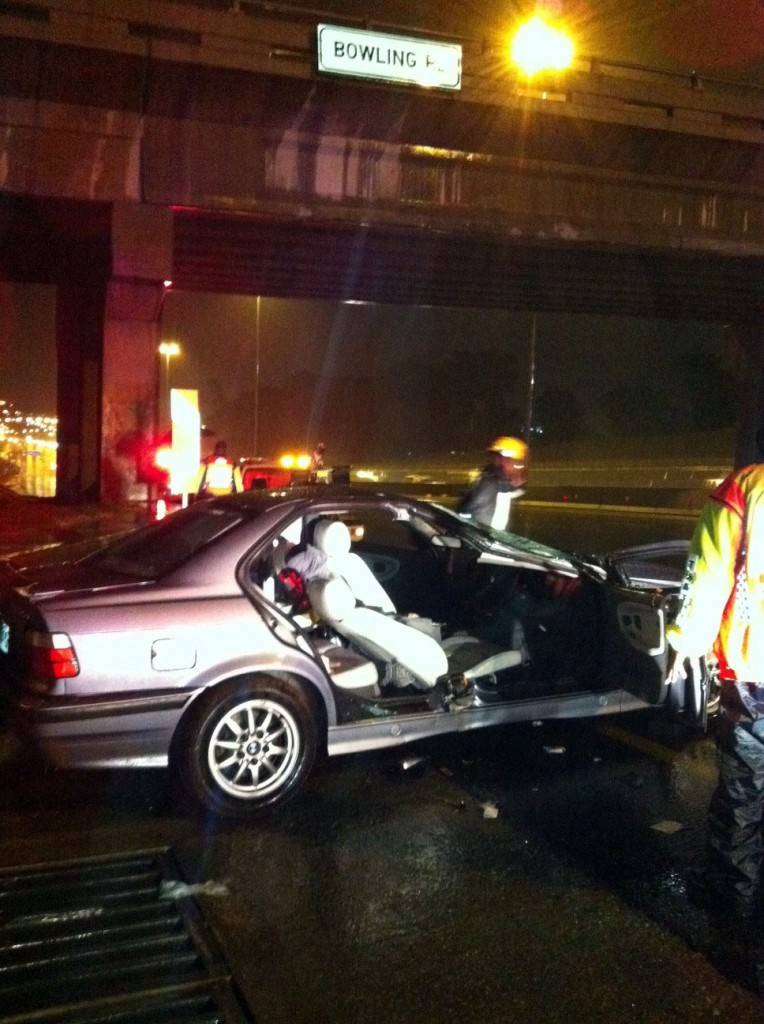 [Sunninghill 22 November 2011 19:00]
A man is lucky to have come out of an accident on the N1 in the direction of Roodepoort just before the Bowling Road bridge, with relatively minor injuries after his car allegedly aquaplaned.
Paramedics were called to the incident in the pouring rain where the 36 year old man's BMW allegedly lost control and slid into the roadside embankment before flipping and coming to rest back on its wheels against the concrete of the bridge. The man was trapped in the driver's seat of the car as the metal had been bent around him. He was alert and was treated for deep cuts to his head as well as possible neck and back injuries.
The Fire and Rescue Workers from the Lonehill Fire Station arrived to assist with the Jaws of Life and they cut the man out of the car. Approximately and hour later the man was in the ambulance were he was out of the rain and on his way to Sunninghill Hospital for further care.
Sopping wet but grateful that the patient had not been badly injured, emergency personal and traffic officials departed the scene. Incredibly it was noted that other motorists sped past the scene of the accident, despite worsening road conditions due to the heavy rains across the area.
For your own safety and those around you, we urge motorists to reduce their speed and drive carefully in these wet weather conditions! Always wear your seat belt and remember as the driver of a vehicle it is your sole responsibility to drive with care.
Vanessa Jackson, ER24