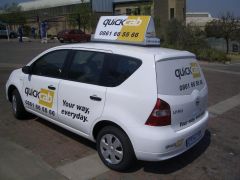 End of year is holiday period, a time to relax, have fun and unwind. This period is also unfortunately synonymous with increased fatalities on South African roads.
Driving whilst under the influence of alcohol and reckless driver behaviour are said to be the leading cause of accidents; about 90% of accidents in South Africa are as a result of lawlessness and could have been prevented.
It can take just one drink to cause an accident. Motorists are urged to make all the necessary arrangements before going out to attend that end-of-year function. Arrange for a designated driver or call a taxi to avoid being part of the statistics.
Quick Cab is a safe and reliable option which is available 24/7 all year round. The drivers are reliable and have been carefully screened, and are fully trained to assist people living with disabilities – the taxis are easily accessible for wheelchairs.
Quick Cab operates in Gauteng and the call centre runs 24 hours daily. It is equipped with a state-of-the-art in-house GPS tracking solution system, which assists in quickly locating a cab closest to where you need to be collected.
Quick Cab can be contacted on:
0861 66 55 66
www.quickcab.co.za
info@quickcab.co.za