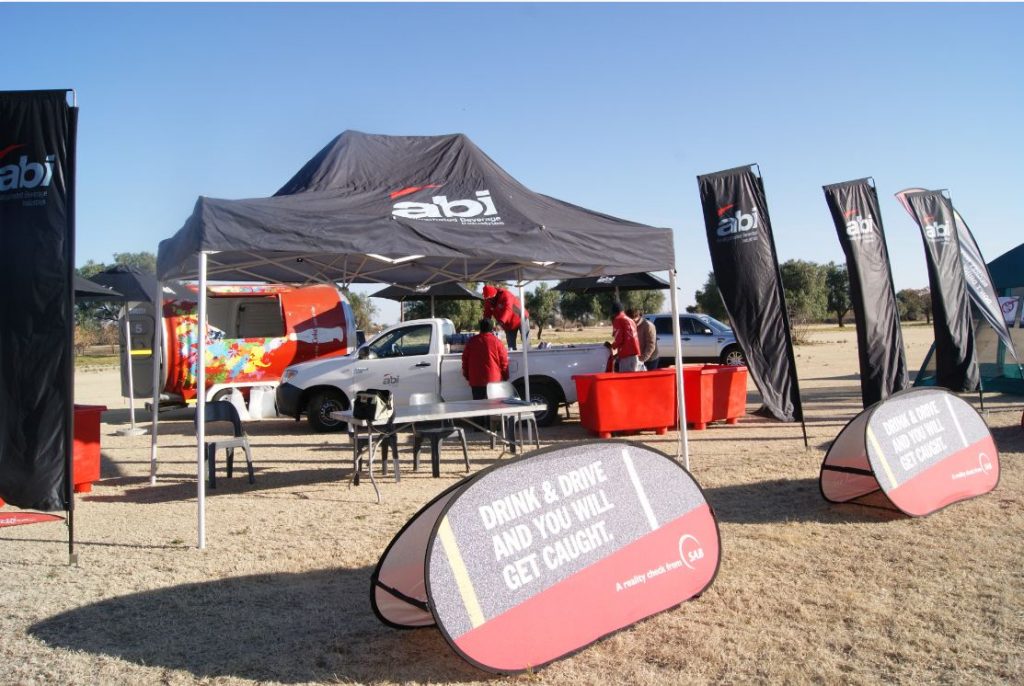 Safety Awareness Project during Intervarsity between NWU Potchefstoom Campus and Free State University on 12 August 2011
AIM
The aim of the project was to make students aware of the fact that they should act as responsible road users and to arrive safely at their destination. Alcohol abuse during Intervarsity is a serious problem among students.
Research in South Africa has proven that the human factor is the largest cause of road fatalities. Statistics in South Africa prove that approximately 15 000 road fatalities take place annually, which amounts to 35–40 road fatalities per day. In other countries, such as New Zeeland, there is less than one road fatality per day – it definitely is a goal to strive for.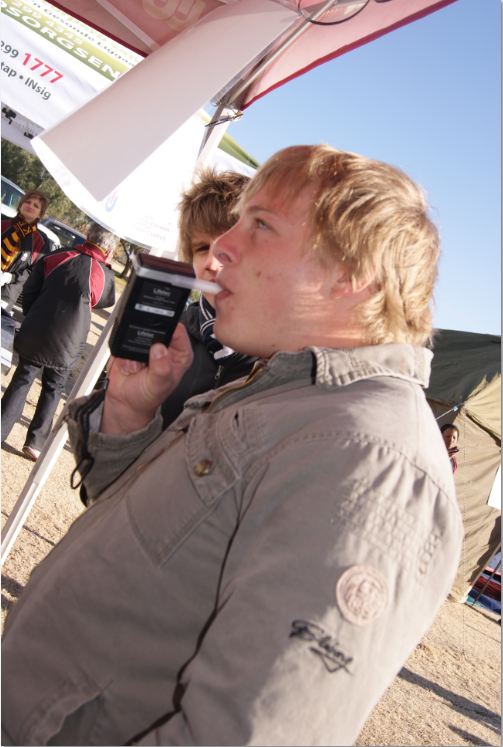 The following factors were accentuated during the project:
• Blood alcohol level (measured by blow instrument) – less than 0,050% (more or less one and a half glasses of wine or beer per hour).
• Cars need to be road worthy and tyres, indicators, wipers etc. must be in order.
• Cars that are overloaded, for instance too many passengers (especially a problem during Intervarsity).
• The driver's attention is distracted by passengers who are noisy and boisterous under the influence of alcohol.
• Wear safety belts.
• A driver who is not in possession of a legal driver's licence.
• Inexperienced drivers.
• Exhaustion – rest on average every 200 km and take regular meals.
• Safe following distance and driving distance.
• Drive with headlights on – visibility is always better.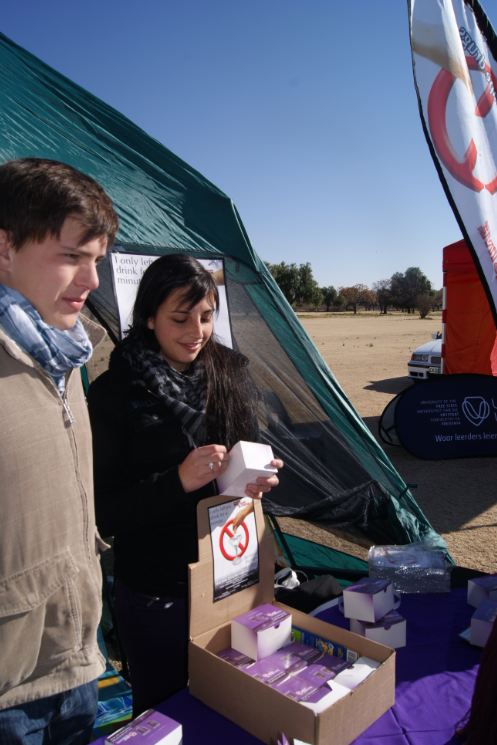 PROJECT
A safe route was determined with the assistance of the respective provincial traffic departments, as well as traffic officials of the towns along the route. Traffic officials also patrolled the route during the entire weekend. Wesselsbron was the halfway halt. Drivers' blood alcohol levels were tested, and if a driver tested above the legal blood alcohol level, another driver was appointed for the rest of the route with controls by means of road blocks in Bothaville and at Skandinawia Bridge up to Potchefstroom.
A very pleasant atmosphere was created at the halfway halts with the help of the Vrystaat Vroue Aksie and CAD. Tasty snacks, such as "braai" sausages, buns, jaffles, pancakes and lovely hot coffee, were sold. Even neat mobile toilets were available. It was a great come-together for the students and some even lingered around longer than was necessary. A few "braaied" meat and socialised with their student mates.
A Buddy project was presented in Potchefstroom during the party on Friday evening. Students were transported to and from the party free of charge for the duration of the evening.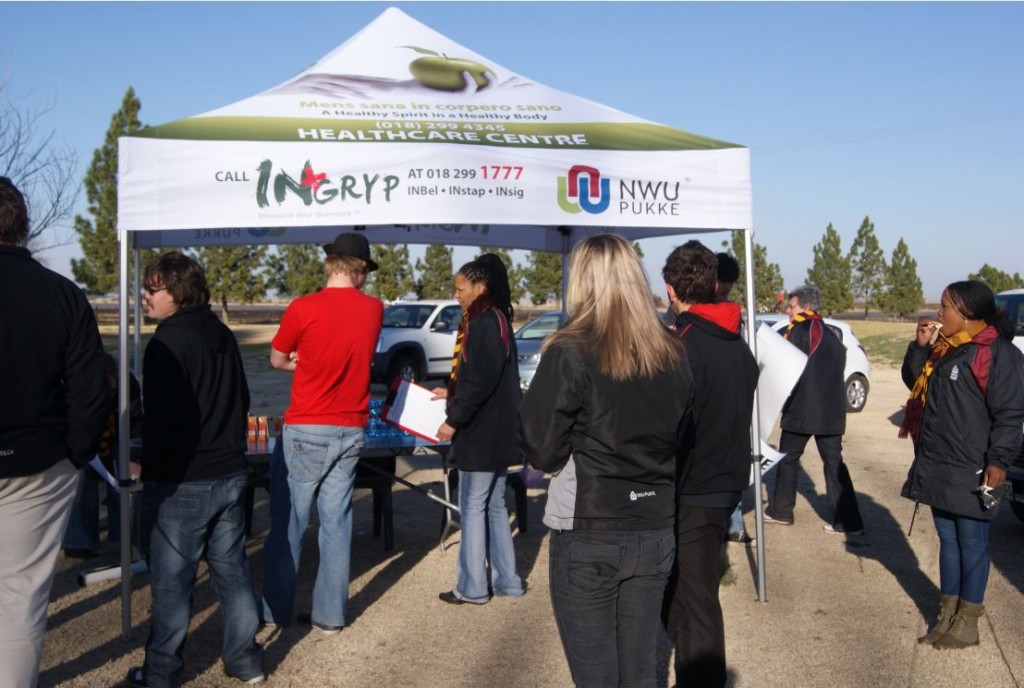 DRIVER INCENTIVES FOR STUDENTS
The first 200 drivers who were tested sober were rewarded with a gift voucher for petrol, worth R200,00. A further encouragement was that the firm Precision Safety Appliances of Pietermaritzburg, which were responsible for blood alcohol level tests, handed out a first aid kit and a CD with easy listening music to the first 200 sober drivers. Survival kits were also handed out to each student – the contents consisted of coffee, sugar, Cremora, a plaster and condoms.
SPONSORS
Heartfelt thanks to the following people, firms and departments for their positive attitude, support and generous financial contribution for the launching of the project:
Vice Rector Prof T Verschoor  – Free State University
The Rector NWU  – Prof Herman van Schalkwyk
The Campus Registrar – Ms Dorothy August
SAB –Potchefstroom  – Mr Koos Taljaard
Total Garage  -Potchefstroom Mr  Frik Le Grange  [Print of petrol gift vouchers]
Precision Safety Appliances  – Supply and use of breathalysers –Mike Grossland
NWU – Potchefstroom Campus  – Health Centre  – Dr Emile Kotze – Transport of Personnel and Breakfast
NWU –Potchefstroom Campus  – Dept of Marketing and Communications – Bundle sms's to students and marketing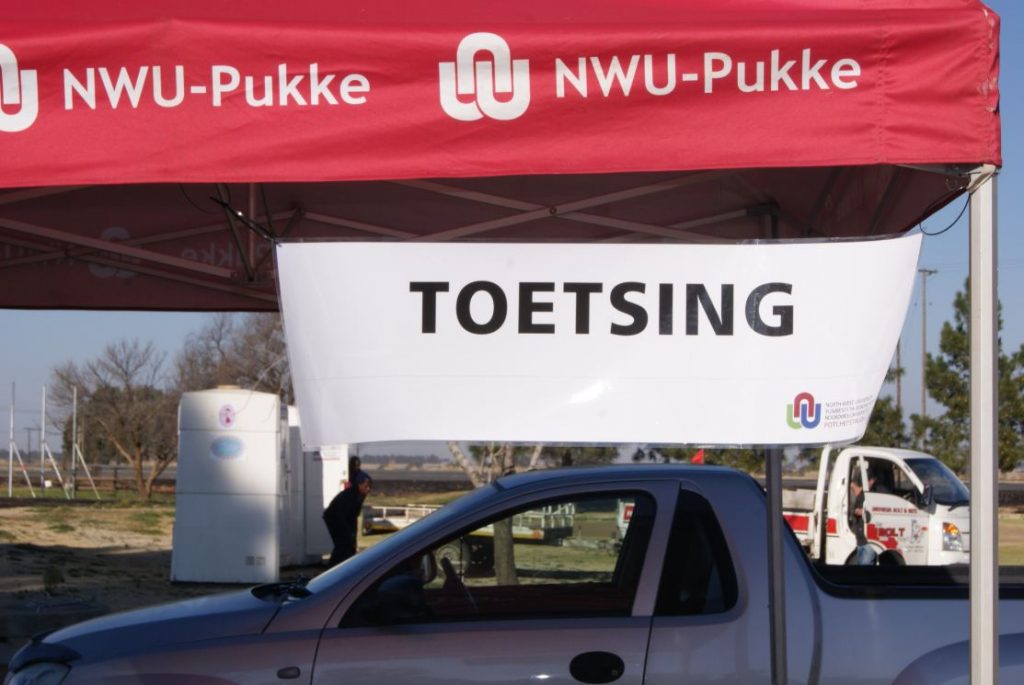 MARKETING
NWU Potchefstroom Campus
SRC Sport – Andre Nel
Department of Marketing and Communications
WAPAD – Student Newspaper
PUK FM
Beeld
The Herald – Local Paper
Student Counselling – Me Marliaan Erasmus used an SOS Program and helpers to create awareness on alcohol limits in the hostels with information provided by SADD  -South Africans Against Drunk Driving.
Free State University
Wellbeing Centre / Office  -Me Annet Prins, Estelle Heideman and Annelize Visagie
Kovsie Health  – Riana Johnson
Kovsie FM
Irawa – Student Newspaper
Volksblad
Kovsie SRC – Ruddy Banyini
OFM
Dept Marketing – bundle sms's to students
Other
Arrive Alive SA Adv Johan Jonck
RSG Oggendprogram and Saterdag Aktueel
EVALUATION
The "Arrive Alive " campaign during the Intervarsity between PUK and Kovsies was an enormous success. The objectives of the project to "Arrive Alive" have been achieved!  There was a noticeable reduction in the amount of students and vehicles traveling due to the road works between Bloemfontein and Wesselsbron.
The Provincial Traffic Department reported and confirmed that there were no road crashes during the Intervarsity weekend on these roads.
Only one driver was tested above the legally allowed alcohol limit at the halfway stop.
Feedback from the students regarding the project was very positive. The students as well as their parents are of the opinion that it was an excellent project and would like to see it come to stay annually during Intervarsity.
The Golf Course as a halfway stop was both safe and accessible.
The project created a fine opportunity, in a jovial atmosphere, to make students aware of their responsibilities as road users. Awareness of the dangers of alcohol abuse and of drinking and driving took place spontaneously. What was also surprising was the opportunity for friendly, spontaneous and overwhelmingly positive interaction between students and traffic and police officials.
We will seek to continue in the further development of the Intervarsity Project as a Yearly Initiative!
Kind regards,
Lenie Kotzé
North-West University: Potchefstroom Campus Social Worker