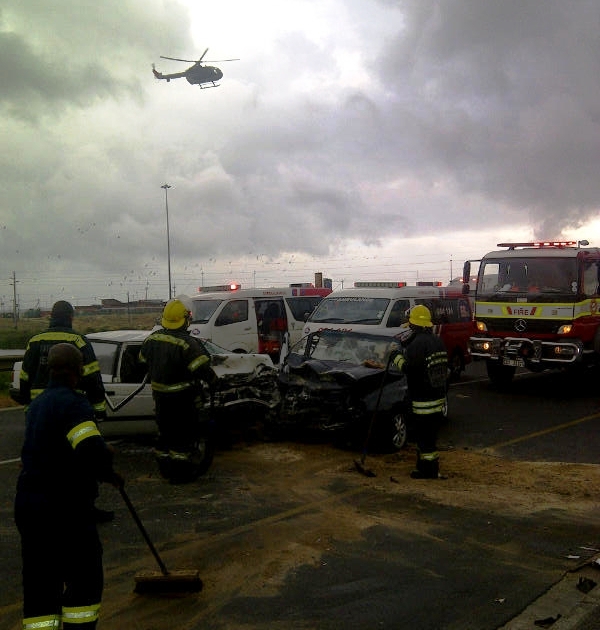 KHAYELITSHA 20 November 2011, 16:10
1 female is in a serious condition and 3 other people sustained serious injuries following a head-on collision on Spine road near Khayelitsha earlier this afternoon.
The cause of the collision is still unknown, but when ER24 paramedics arrived at the scene they could see that the collision was severe judging by the amount of damage sustained to both vehicles involved. Paramedics found a husband and wife in a white Nissan Sentra, both occupants were entrapped in the vehicle.
Local fire and rescue services used specialised hydraulic rescue equipment to cut at the wrecked vehicle in order to free the entrapped occupants. The female, believed to be aged in her 30's, was extricated from behind the steering wheel. She had sustained suspected back and neck injuries, a broken leg as well as severe facial injury and a head injury.
Due to injuries sustained by the female, on-scene paramedics promptly dispatched the ER24 Discovery Medicopter to the scene. The wife was then treated and stabalised at the scene before being airlifted to Tygerberg hospital for further medical care.
The husband received on-scene treatment by paramedics for severe facial injuries and a head injury before being rapidly transported to a nearby medical facility. 2 other occupants from the other vehicle, a VW Jetta, was treated and transported from the scene by the Western Cape Provincial Department of Health Emergency Medical Services.
Local law enforcement authorities who attended the scene will be investigating the incident further.
Andre Visser, ER24