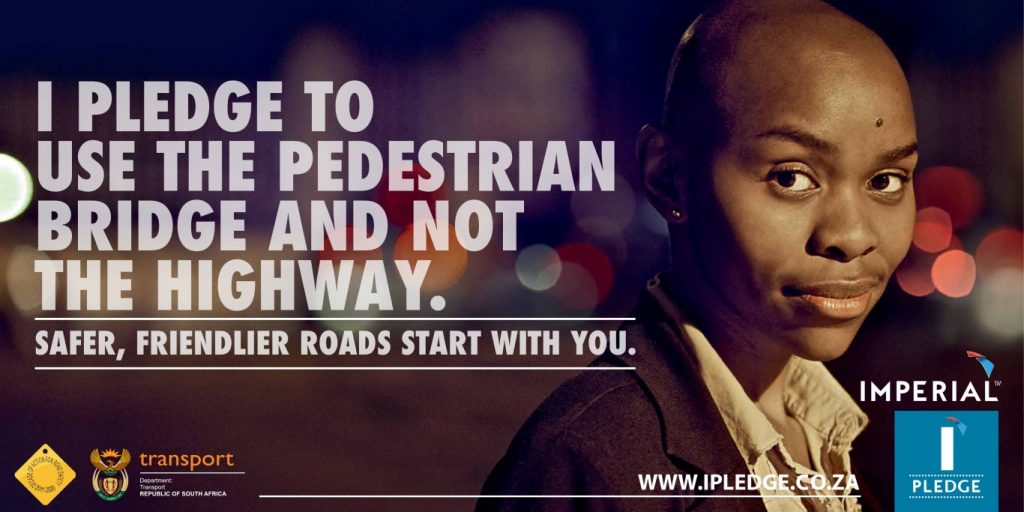 The biggest single contribution to road fatalities in South Africa are collisions with pedestrians and resulting pedestrian fatalities. We need to do our utmost to be safe as pedestrians  – whilst drivers also need to be alert to pedestrians at the side of the road. We would like to share some advice and suggestions about pedestrian safety from the Arrive Alive Road Safety Website.
Pedestrian Safety Tips:
The pedestrians should focus on some of the following aspects
Ensure that you are clearly visible during the night. Always wear lightly coloured clothes or reflecting clothing.
Do not walk in the road but on the pavement. If there is no pavement, walk as near to the edge as possible, facing the oncoming traffic.
Avoid roads at all times when intoxicated.
When crossing the road and there is a pedestrian bridge, use it, even if it means walking further.
Never run across the road without looking both ways, and check that there is no traffic before crossing the road.
Never assume that you have been seen – many disturbances might attract the attention of the motorist. Be wary. Most drivers are nice people, but don't count on them paying attention. Watch out – make eye contact to be sure they see you!
Do not leave children unaccompanied next to the road.
Do not walk halfway – remain beside the road until both lanes are clear.
Alcohol and drugs can impair your ability to walk safely, just like they do a person's ability to drive.
Driver Safety Tips near Pedestrians
Be aware that many informal settlements are situated alongside main roads and that there are no formal points of crossing or pedestrian bridges.
Do not speed near these settlements but be prepared to slow down.
Do not assume that you have been seen.
Be on the lookout for small children
Avoid passing vehicles in the vicinity of these settlements and especially in hazardous driving conditions such as heavy rain or night driving.
If visibility is bad, slow down – avoid driving when your vision is impaired either by strong rain or the blinding headlights of approaching vehicles.
Be on the lookout for pedestrians walking at the side of the road with their backs towards you.
Be aware of intoxicated pedestrians – especially over weekends and near informal settlements.
Be careful near places where busses or taxi's appear to stand next to the road – passengers might suddenly decide to cross the road!
Always be ready for the unexpected!
Things to remember as a driver:
You can encounter pedestrians anytime and anywhere – even in places where they are not supposed to be found.
Pedestrians can be very hard to see – especially in bad weather or at night. You must keep a lookout and slow down if you can't see clearly.
Stop for pedestrians who are in a crosswalk, even if it is not marked. When you stop for a pedestrian in a crosswalk, stop well back so that drivers in the other lanes can also see the pedestrian in time to stop.
Cars stopped in the street may be stopped to allow a pedestrian to cross. Do not pass if there is any doubt!
Don't assume that pedestrians see you or that they will act predictably. They may be physically or mentally impaired – or drunk!
When you are turning, you often will have to wait for a "gap" in traffic. Beware that while you are watching for that "gap", pedestrians may have moved into your intended path. Don't run someone down.
Be especially attentive around schools and in neighbourhoods where children are active. Drive there like you would like people to drive in front of your own home!
For Live Traffic on your Route view the TomTom Route Planner
Also view:
Road Safety Tips for the Festive Season