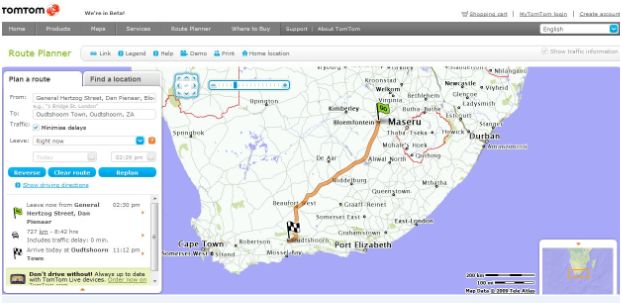 It is not only individuals and drivers who are in need of maps, but also property developers and other business owners! But where can I find the best maps of Southern Africa?
We decided to approach the experts with a few questions. Our Expert is Danny Grobben, General Manager TomTom Africa.
Danny, please give us a quick insight on the background in the mapping industry…
Cartography or map map-making has been an integral part of our history, telling the human story through the ages.  From ancient maps of Babylon, Greece and Asia, through the adventures of exploring the globe and into the 21st century, people have created and used maps as an essential tool to help them define, explain and navigate their way through the world.  We have advanced a long way from the two dimensional handmade drawings of the early days. Today's map building is exciting and ever evolving.  Technologies available to TomTom have allowed us to evolve from the now standard map building to a new revolutionary methodology.
As a base we source imagery and government information which we verify and complete by using our field survey teams. To this standard process applied by most mapping companies we have add a camera equipped van with high accuracy measurement systems to collect information such as speed limits, lane and sign board information.  Making use of GPS users communities has revolutionized our capability to keep up-to-date with the ever changing reality.  Research has shown that road networks change on average 15% a year – this is a formidable challenge to keep up with.  Through using the community and the feedback they are able to offer we are able to keep up with these changes faster and provide our customers with the freshest and most up to date maps possible.
Tele Atlas has been a very recognizable name in the Mapping Industry – Can we say that Tele Atlas Africa has been one of the cornerstones of what TomTom Africa is today?
Tele Atlas has been responsible for building and providing fresh, high quality maps into the market for a number of years.  This was definitely a key reason for TomTom to purchase Tele Atlas in 2008.  Location based information has become key to any successful business.  We want to know where customers, places and friends are.  How do we target our market, how do I get from point A to point B and how do we plan for the future?  Mapping is the key element behind all these questions.
Tele Atlas Africa has been rebranded to TomTom Africa – Licensing, and continue to provide the same mapping products and services for the African market.  I can definitely say the ground work that Tele Atlas Africa did in building the map data and providing that out to the African market has created a strong cornerstone for what TomTom Africa – Licensing is today.  We are able to offer "location" in different formats – Maps and enhanced content, traffic information and LBS (Location Based Services) due to the hard work of the map building team.
Can you give a brief overview in a sentence or 2 of what they need to understand when they hear the following words?
-TomTom Gps
This is the cool TomTom navigation product that you use in your daily live.  TomTom Africa – Licensing build the maps that are used in this product, but do not provide the TomTom GPS.
– TomTom Consumer
TomTom Consumer is the division within TomTom that is responsible for selling the TomTom retail products
-TomTom Accessories
TomTom Accessories are the additional things you can buy for your TomTom GPS – protective pouches, different coloured casings etc.
– TomTom Africa Licensing
TomTom Africa Licensing is responsible for building and licensing out the maps that are used in different applications.  We are the people you would call if you need a map for your application.  Together with MapIT, our business partner for Sub-Sahara Africa we provide maps and location services for the following market segment:
Personal Navigation for Mobile, portable GPS or embedded in the car
Fleet management, Logistics and telematics
LBS – internet
Government and GIS
Telecommunication and Utilities

What are the benefits of having the name and branding of TomTom associated with Mapping in Africa?

When TomTom acquired Tele Atlas in 2008, we were able to leverage new innovative technologies to bring our customers faster updates via community input. We also brought a series of new products to the market including historical speed profiles, travel time information and real-time traffic incidents and flow data. Now that we are integrated, we serve our customers better and innovate faster, pulling on the advantages of one single TomTom brand and identity.People can now have "Maps by TomTom" in their business applications, people like that association.

Who would be the major role players in the Mapping industry in South Africa?

The two biggest players are Navteq owned by Nokia and ourselves TomTom Africa Licensing.  We do have the advantage of having been in the market for longer so have established ourselves and have a strong map base to build and enhance on.

TomTom Africa- Licensing maintains its 49% shareholding in MapIT, its business partner for  the B2B/enterprise segment, Internet and fleet management markets.  MapIT supplies innovative technologies enabling asset tracking, fleet management, emergency services, business intelligence, marketing analysis, geocoding and address validation, mobile applications and web services.

What gives TomTom Africa Licensing the edge in this industry?

TomTom Africa Licensing is able to harness the power of the community to aid in the process of correcting and updating maps.  By drawing from a central database of current, user-generated information, we are able to enhance our ability to provide up-to-date mapping data to our customers.  The information sourced from the community is verified by aerial and satellite imagery and by our professional survey teams who go out to the respective locations.

We receive thousands of changes a month from a broad range of application and device users.  Yet to get to a point where you can create a real-time map, you need more and that's where the community comes in.  With community input, people are able to deliver a great deal of valuable information about the roads they've driven on and what they've encountered along the way.  Updated maps are able to reflect the reality of the moment.  This allows our customers to build products and services upon the freshest and strongest map foundation available for this market.

Being able to provide the freshest maps for our market and enhanced products such as real-time traffic gives TomTom Africa Licensing a definite edge in the market.

How can TomTom Africa Licensing assist the corporate South Africa with their mapping needs? Which services can you provide to businesses?

TomTom Africa Licensing is able to offer the most up to date mapping and enhanced products to assist businesses with all aspects of location based queries.  Any idea you come up with that requires a map or a location element we can assist.

The mapping is the base, but it is about what you can do with it…The sky is the limit and your imagination the restriction.

We are here to provide you with the start point and help plan your route to success from a location perspective.

There is much debate amongst consumers of what the best GPS devices might be.  Do you agree that this is a question perhaps best answered by referring to mapping above all, and then functionality, pricing etc?

Yes.  You need to have accurate, up to date mapping in the background to get you to your destination.  From there the software functionality, price, additional extras, and personal preference start to play a role.  But if you don't have a good map base which covers the areas you want to visit you may not get where you want to be… Besides the covered areas the map difference is determined by the correctness and accuracy of the collected information. Using community feedback makes a massive difference in terms of quality.

What do we need to know if we refer to "The Best Maps" – What would you regard as the basic characteristics of the "Best Maps"

The "Best Maps" campaign is stressing the fact that TomTom Africa Licensing has the most comprehensive and complete offering in terms of kilometer road network for the region.

Besides the coverage advantage, TomTom maps have a higher accuracy compared to reality as a result of the innovative mapping process we explained earlier.

For Live Traffic on your Route view the TomTom Route Planner

For Route Planning and Weather on your Route : Mapservice

Also view:

Road Safety Tips for the Festive Season