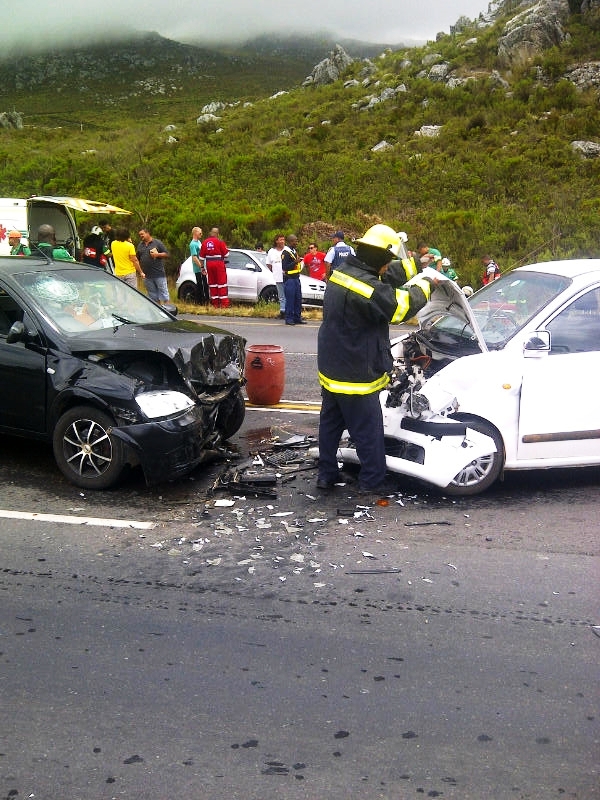 GRABOUW 23 January 2012, 11:00
3 people sustained various injuries this afternoon after 2 cars, a bakkie and a motorbike all collided on Sir Lowry's pass near Grabouw.
The cause of the collision is unknown at this stage, but the 1 vehicle had allegedly collided head-on with the bakkie. The 3rd vehicle then collided with the initial collision. A male motorcyclist then allegedly lost control of his motorbike and fell off his motorbike sliding towards the initial collision.
When ER24 paramedics arrived at the scene they found a total of 3 individuals in need of medical attention. The 1 male driver, believed to be aged in his mid 20's, had sustained a suspected back, neck and chest injury as well as deep cuts to his face. The other patient and the motorcyclist also sustained suspected back and neck injuries as well as various scrapes and bruises.
All of the patients received treatment at the scene by ER24 and the Western Cape Provincial Department of Health: Emergency Medical Services before being transported to nearby medical facilities.
Traffic was affected as the road was partially closed while rescue personnel attended to the scene. Local law enforcement officials attended the scene and will be investigating the incident further.
Andre Visser, ER24