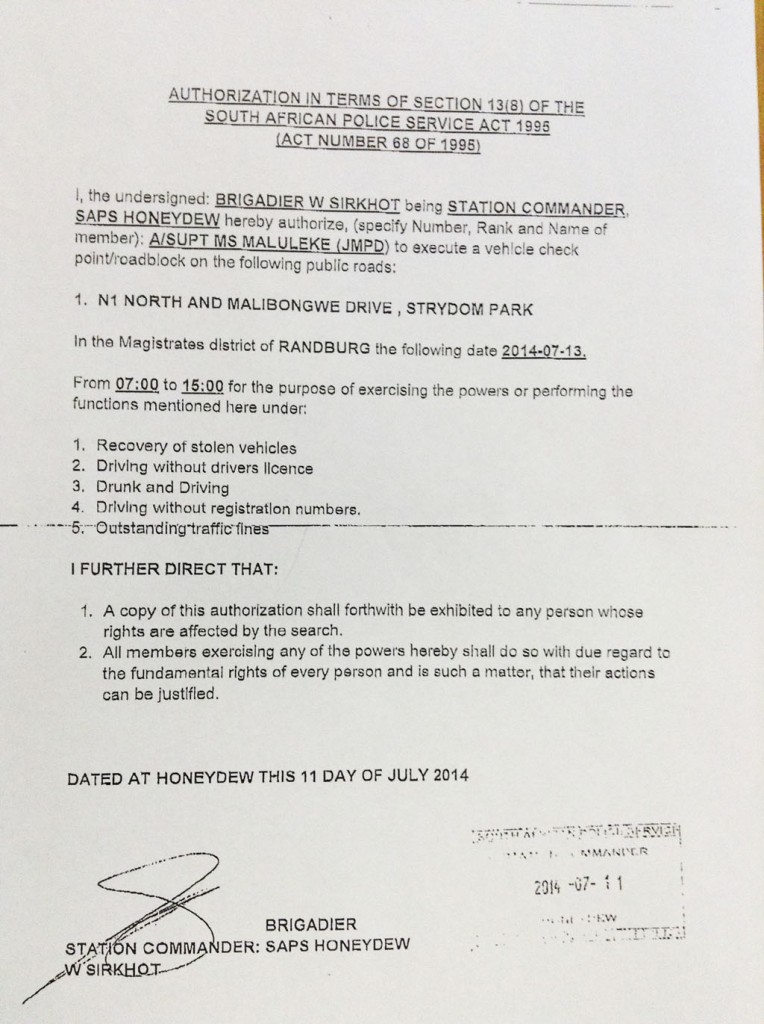 JOHANNESBURG – On Sunday 13 July 2014, the JMPD staged simultaneous roadblocks on the N1 North and South between Beyers Naude and Malibongwe Drives and vice versa for over six hours, which resulted in gridlocked traffic, plus significantly long delays and financial losses to innocent, law-abiding motorists.
Despite Justice Project South Africa requesting it be supplied with the authorisation in terms of Section 13(8) of the SA Police Service Act, 1995 the JMPD claimed to have on Sunday and receiving an assurance from Chief Superintendent Wayne Minnaar that it would be emailed or faxed to us by no later than Monday morning, the authorisation was not forthcoming until late on Tuesday 15 July.
On the face of it and bearing in mind that this document was only furnished to us more than two days after the fact; authorisation was granted and signed by Brigadier Sirkhot, the station commander at Honeydew Police Station, on Friday 11 July for the JMPD to conduct a roadblock from 07:00 to 15:00 (8 hours) on the "N1 NORTH AND MALIBONGEWE DRIVE, STRYDOM PARK".
The applicable authorisation only lists the aforementioned site (N1 North) and makes no mention whatsoever of the "N1 South and Beyers Naude Drive" – the other site at which the JMPD set up a simultaneous roadblock.
When Howard Dembovsky spoke to Chief Superintendent Wayne Minnaar at around 16:00 on Tuesday 15 July, he specifically asked him to confirm how many pages the authorisation comprised of and was told "one".  This has established beyond any reasonable doubt that whilst the JMPD may indeed have been authorised to mount a roadblock on the N1 NORTH, it was NOT authorised to do so on the N1 South on Sunday.
This is a very serious violation of Section 14 of the Constitution of the Republic of South Africa, which protects people from arbitrary search and cannot be taken lightly.
To crown it all, whilst participating in a live radio interview on Chai FM on Tuesday 15 July, Chief Superintendent Wayne Minnaar publicly acknowledged that "the people who commanded the roadblock did go wrong" and "the way the roadblock was conducted was not what should have happened".  These admitted bungles led to the gridlocked traffic in both directions of one of Johannesburg's busiest routes – on a day traditionally dedicated to families. (SoundCloud podcast here)
The defective authorisation, combined with this admission has opened the doors for claims against the City of Johannesburg from people who were financially prejudiced due to the inordinate delays caused by the Johannesburg Metropolitan Police Department in both directions and more seriously, with respect to the unlawful searches conducted on the N1 South.
During the course of the interview, Minnaar added that affected people could contact the City of Johannesburg's "claims department" however, as anyone who has ever dealt with the City of Johannesburg in relation to financial claims against the JMPD will attest; this "World Class African City" is notorious for its "hurry up and wait policy".
There are still to this day a large number of motorists who have not been refunded for illegal traffic fines issued by the JMPD from 1 November 2008 to 11 February 2009, despite an undertaking by the JMPD to make such refunds.
In light of this fact and these latest developments, JPSA has established a working relationship with legal practitioners to assist motorists to recoup monies due to them and will make an announcement on its website with respect how motorists may take advantage of this service by no later than the end of this week.
JPSA does however wish to commend Chief Superintendent Wayne Minnaar's candour and preparedness to admit that the JMPD's management is simply not what it should be on live radio.
Operation "achievements" as reported by the JMPD
| | | |
| --- | --- | --- |
| Item | Number | Number per Hour |
| Vehicles stopped & searched | 3055 | 509 |
| Stolen vehicles recovered | 6 | 1 |
| Unroadworthy vehicles found | 7 | 1 |
| Fines issued | 169 | 28 |
| Outstanding traffic fines collected | ?? | ?? |
| Total Offences Detected | 182 | 30 |
| Officers involved earning double time | ?? | ?? |
| Civilian employees involved | ?? | ?? |
| JMPD vehicles involved | ?? | ?? |
PLEASE NOTE:
Outstanding traffic fines issued in terms of the AARTO Act are dealt with by the Road Traffic Infringement Agency (RTIA) and the JMPD has NO LEGAL STANDING to force payment thereof at a roadblock. Item 5 in the authorisation above is therefore extremely questionable, since the South African Police Service has NO JURISDICTION over AARTO.
Absolutely ZERO arrests reported for driving under the influence of alcohol!
Howard Dembovsky
National Chairman – Justice Project South Africa (NPC)