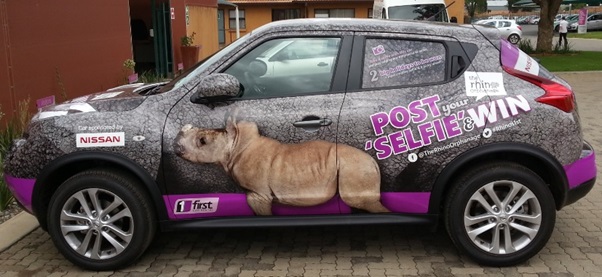 JULY 2014: Animals lovers will have the chance to get up close and personal with a very special First Car Rental Nissan Juke at the WODAC PET EXPO 2014 taking place from 18 to 20 July 2014 at the Gallagher Convention Centre in Midrand.
First Car Rental's Rhino Orphanage Nissan Juke is specially wrapped to look like a mom rhino with her baby rhino and is all set to be a star attraction at the Expo where visitors will be able to interact with the life-size mom and baby rhino and even take a selfie with them, entering them into the 'Post Your Selfie & Win' competition.
The initiative, being driven by First Car Rental in association with Nissan SA, Lafarge South Africa, New Holland (Agri), Graffiti Media and Legend Golf & Safari Resort, aims to  raise awareness for The Rhino Orphanage – the world's first non-profit organisation dedicated to caring for and rehabilitating baby rhino that have lost their moms to rhino poaching.
To enter the competition, WODAC visitors are encouraged to find The Rhino Orphanage car at Stand 148, take a selfie with the vehicle and post to Facebook, Twitter, Instagram or Google+, making sure to tag with #Rhinos1st. There are two holidays to be won worth R20 000 each – one for the most creative selfie and the other a lucky draw.
Over the past months, the 'Post Your Selfie & Win' Rhino Orphanage Nissan Juke has been travelling across South Africa to attend some of the country's greatest events, from The Rand Show, the Getaway Show and the Wacky Wine Weekend to name a few.
The WODAC PET EXPO, however, holds special meaning for this cause as there couldn't be a better event for The Rhino Orphanage Nissan Juke to feature at than one filled to the brim with people who share a common love for animals.
About WODAC PET EXPO
WODAC PET EXPO is a celebration of opportunities and rewards of pet ownership and offers seasoned pet parents, new pet owners and those looking to adopt a pet a treasure trove of information through interactive workshops on responsible pet ownership; health and wellness solutions; and lots of products to pamper their pets with.
The Expo will also feature several exciting events including Dancing with Dogs SA Championship, equine displays, agility contests and more.
For more information on the WODAC Pet Expo 2014 visit www.dogscats.co.za
Follow WODAC on Twitter and like them on Facebook to keep up to date with the expo.
To find out more about First Car Rental's Rhino Orphanage campaign please:
Also view: