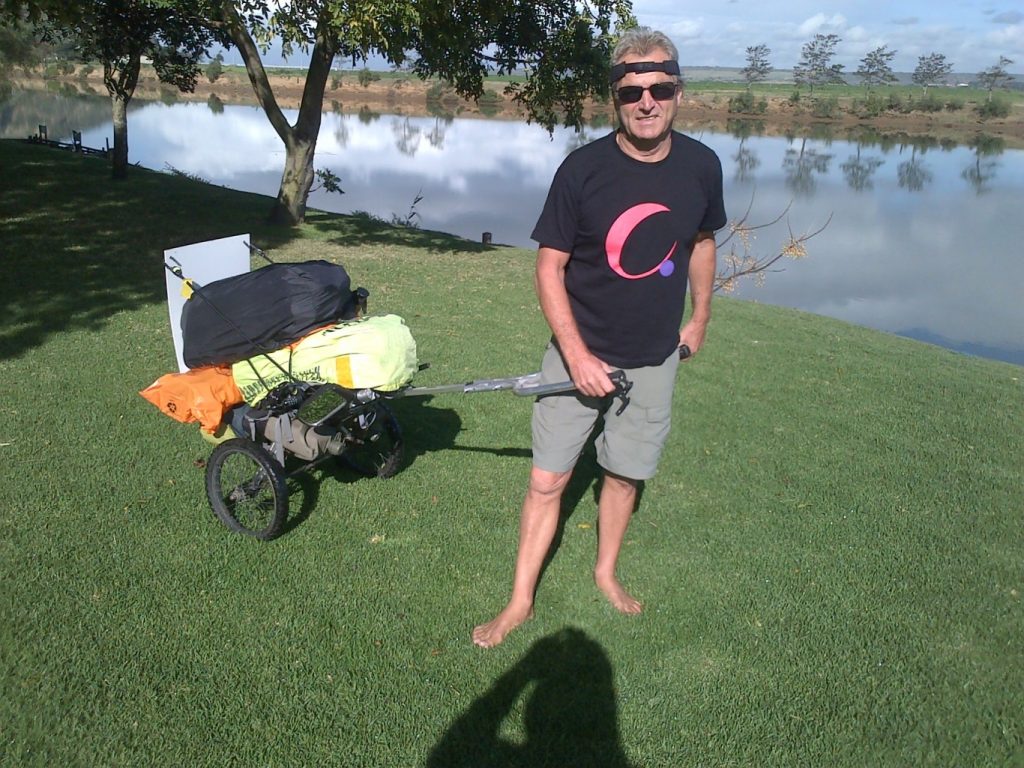 My wife died twenty years ago of breast cancer. She never discovered the lump in time! Last year, my daughter discovered a lump, luckily, earlier than my wife she found hers. She has now been successfully treated and will survive because early detection is key to survival!
For my own healing, and to make a difference, even in a small way, I decided to walk barefoot for cancer awareness from Cape Town to Durban. It has not been an easy journey, but so worth it!!
I am concerned about all cancers but because breast cancer has struck twice in my immediate family and because one in twenty nine ladies in this country develop it, I'm concentrating my efforts there.
Awareness of cancer is not enough – it requires a follow-up action. The ladies need to have regular check-ups but equally important – they need to do monthly self-examinations too. You do not have to be an expert- what you are looking for is any physical change.  You can found the poster with the most important signs on www.cancervive.co.za.
Awareness does not stop cancer- early detection can! Of the twenty five million females alive today in South Africa, nearly 900,000 will develop breast cancer. One in twenty nine! It's like me guessing what date in the month your birthday is on- I might just say the right number. Don't bet your life with such odds, you owe it to your family.
There are ladies out there now that have breast cancer but don't even know it! These are especially the ones we should all strive to reach. As time ticks away their fight will be that much harder. We can all help to save lives by doing regular checks ourselves and to convince our loved ones to do the same.  Don't forget – awareness does not stop cancer – early detection can!
I came across an organization with the same passion for awareness and education of cancer, Cancer.vive.
Cancer.vive is a special awareness and education project of the umbrella organisation People Living with Cancer. Driven by passionate survivors and supporters, they create awareness, educate communities and provide support and care throughout South Africa.  This colourful campaign has been internationally recognised as one of the most dynamic cancer awareness campaigns in the world.
Their annual Awareness motorcycle ride, reaching about 15,000 people in rural areas and communities face to face every year, is their flagship project.    A group of 60 survivors and supporters will this year, from 27 September to 4 October, travel from Pretoria through Kwazulu Natal and back to Johannesburg to spread this very important message.
Donations to this organisations can be done through their website, www.cancervive.co.za.  Click on donations and choose the name Paul Ucheck from the list of names.  The public can also send an sms to  show their support.  Sms Paul to 42356.  (R30 per sms)
You can make contact with Paul Ucheck by phoning him on 0823160896.