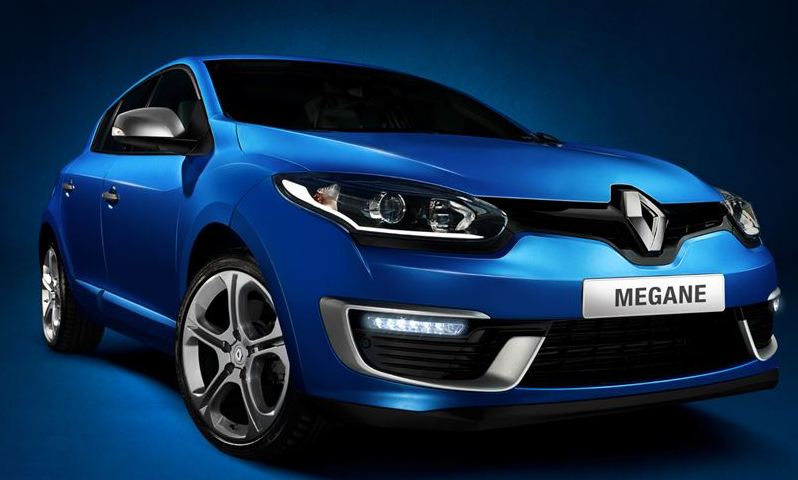 With its design more sensuous than ever, New Renault Mégane MY2014 – the flagship model in Renault's product line-up – now displays the brand's new design identity initiated by chief designer Laurens Van den Acker
Introduction of two new sister derivatives aim to meet the same expectations of design and technological advancement but with different priorities:
Outstanding fuel efficiency for New Mégane GT-Line fitted with brand new Turbo 97kW engine which makes its premiere in SA. Total driving pleasure in tandem with exceptional fuel efficiency (5.4l /100 km, 124g CO²/ km)
Spirited performance for everyday use for New Mégane GT Turbo 162kW engineered by the Renault Sport team
Best-in-class in terms of intelligent technologies include exclusive features such as integrated Live navigation and keyless locking/unlocking system
Since its 1995 début, Renault Mégane has been accorded the prestigious title of flagship model of the French automaker's line-up and with the revitalization of each successive edition in the 19 years since, the magnificent Mégane continues to take the international motoring modelling ramp by storm.
Renault just keeps on pulling pure magic out of the hat and when ogling the sensuously stylish lines and distinctive design of the New Renault Mégane Model Year (MY) 2014 line-up, you'll be hard pressed not to agree!
Refined yet assertive, New Mégane engages the senses on sight and it's easy to see why. The imposing centrepiece diamond-shaped badge dominates the black grille serving to underscore the brand's new design identity. Front LEDs complement this and add the final touch.
A NEW RANGE WITH INTELLIGENT TECHNOLOGIES AS STANDARD
The New Mégane MY2014 range is completely new andbuilt around three levels: the top-of-the range New Mégane GTTurbo 162kW,mid-rangeGT-Line Turbo 97kW and base levelDynamique 81kw.
The core of New Mégane MY2014 are the two new sister versions GT-Line Turbo 97kW and GT Turbo 162kW. While they share the same design refinement together with intelligent technologies DNA, theytend to address clients' expectations slightly differently:
–        Outstanding fuel efficiency for New Mégane GT-Line Turbo 97kW
–        Spirited performance for everyday use for New Mégane GT Turbo 162kW.
All derivatives of the New Mégane MY2014 range are available in five-door Hatch or three-door Coupé variants and these two body shapes offer exactly the same specifications with the recommended pricing also identical.
The range has been designed in order to underpin Renault's leadership in terms of intelligent and progressive technologies by focusing on delivering the highest level of safety combined with the most updated and intuitive on-board experience.
Indeed, all versions of the New Mégane MY2014 range come standard with six airbags: front, side and curtain (with anti-submarining airbags an addition to the Coupé derivatives); ABS coupled with Emergency Brake Assist (EBA); cruise control plus speed limiter and Electronic Stability Program (ESP) with electronic anti-slip regulation (ASR); 3-point ISOFIX seat anchorage on side rear seats.
Also standard across the range are intelligent technologies ensuring the most updated and intuitive on-board experience, like dual-zone climate control, fingertip controls behind the steering wheel, integrated navigation system including Live services, Bluetooth connectivity, USB port, auto locking / unlocking system and rear park assist.
DÉBUT OF BRAND NEW TURBO 97KW ENGINE:
Absolute driving pleasure + performance + optimum fuel efficiency
Renault is, today, the most advanced manufacturer globally when it comes to engine downsizing with no compromise on performance.
As confirmed by JATO Dynamics in its annual report 'A Review of New Car CO² Emissions across Europe 2013', with a weighted average of 110.1g/km, "Renault ranks as the top performing brand in terms of fuel efficiency and CO² emissions.  The manufacturer's proven leadership in this regard is underpinned by its engineering expertise accumulated over decades of top level involvement in Formula 1."
Renault's brand new Turbo 97kW (four cylinder, 1.2 litre capacity) engine makes its premiere with New Mégane MY2014. Name Code H5Ft, it is engineered in France and produced in Spain. The automaker's transfer of F1 technology to its brand new Turbo 97kW engine concerns four major aspects: turbo technology, engine aerodynamics, friction reduction and thermal management.
Turbo technology: Renault was the first motor manufacturer (1977) to introduce Turbo technology into Formula 1. The core of the new Turbo 97kW power plant is a very low inertia turbo allowing best-in-class output (81kW per litre) while ensuring a very high level of durability.
Engine aerodynamics. The new Turbo 97kW engine boasts direct fuel injection coupled with a high tumble strategy inspired by Formula 1. The flow of the fuel mix inside the combustion chamber is optimised for fast, stable combustion.
Friction reduction. Diamond-Like Carbon (DLC) coated cam followers and Graphite-Coated piston-skirts: the components of the new Turbo 97kW enginebenefit from high-tech surface treatments with low friction coefficients used in F1. Internal friction is reduced by 20% and more, which translates to less wear and tear, reduced fuel consumption plus improved performance, quality and reliability overall.
Cooling and thermal management.The downsizing strategy increases the power density and generates intense thermal exchanges. Renault engineers use F1 as a laboratory for extreme engine conditions and their expertise has been invested in the development of a very efficient and robust cooling system for the new 1.2 Turbo engine.
Over and above the innovations derived from Formula 1, the new Turbo 97kW engine adopts the most modern technological solutions:  100% aluminum block, variable valve timing at intake and exhaust, controlled variable oil pump, stop/start function plus energy smart management, including regenerative braking system.
The result is an exceptional output for a 1.2ℓ engine of 97kW at 5 500 rpmand maximum torque of 205Nm available between 2 000 and 3 000 rpm, improved even more thanks to its overboost function(peak torque at 225Nm). It outperforms the 1.4 Turbo it replaces and is equivalent or superior to the naturally aspirated 1.6, 1.8 or even 2.0ℓ engines on offer by its competitors.
Overboost function
The overboost function is triggered on full load request in second and third gears and delivers an additional 20Nm of torque in 20 seconds reaching a maximum of 225Nm at 2 000 rpm.
Delivering excellent performance (0 -100 km/h in 9.7 seconds) and maximum speed of 200km/h, the driving pleasure afforded by the Renault's new Turbo 97kW power plant stems from its extreme responsiveness with 90% of its maximum torque available from 1 500 rpm.
Highly fuel efficient with very low consumption of 5.4ℓ /100km, it generates 124g CO² / km. This  represents an improvement of -14% compared to the previous 1.4 Turbo engine (6.3ℓ /100 km, 145g CO² / km).
Even though the new Turbo 97kW engine comes packed with cutting-edge technologies, Renault engineers have kept in mind the importance of lowering maintenance costs. One of the key elements underscoring this is the replacement of the cambelt with a lifetime timing chain which requires no maintenance.
NEW MEGANE GT-LINE TURBO 97KW:  A car of the next generation
"By mating our brilliant new Turbo 97kW engine with New Mégane and its suggestive,  sporty GT-Line trim, we've created one of the most advanced and attractive cars available in the market," says Fabien Payzan, vice-president of marketing and communications at Renault South Africa.
"The New Megane GT-Line Turbo 97kW is undoubtedly a car of the next generation. An impressive technological package, it delivers the most pleasurable driving experience together with excellent fuel efficiency whileat the same time, respecting the environment."
On the outside, New Mégane GT-Line Turbo 97kW asserts its energetic and upmarket character via its stand-out front bumper which includes LEDs, while its rear bumper boasts integrated diffuser and fancy 17" dark grey alloy wheels. Refinement and coherence are the key words here with the side mirrors and exterior doors handles also coloured dark grey.
Inside, the refinement of the New Mégane GT-Line Turbo 97kW is reflected in its combination cloth fabric/leather seats with GT-Line signature on the front headrests, specific Renault Sport clusters and a subtle red line integrated into the dashboard inclusive of GT-Line signature.
Renowned for delivering world class safety for driver and passengers alike, Renault's New Mégane GT-Line Turbo 97kW also offers the most comprehensive list of standard specifications: ABS coupled with Emergency Brake Assist (EBA), Electronic Stability Program (ESP) which, in the event of loss of control due to excessive speed or slippery road conditions, assists in the regaining of control by reducing engine power and braking on independent wheels;  front, side and curtain airbags (plus anti-submarining airbags on Coupé) and ISOFIX anchorage on the two side rear seats.
Additional intelligent features include front and rear electric windows and side mirrors, dual climate control, cruise control plus speed limiter, rear parking sensors, Bluetooth connectivity, Radio CD MP3 with USB port plus fingertip controls located behind the steering wheel.
The most modern, intuitive and convenient on-board experience is ensured thanks to the integrated navigation withLive connectivity and the Renault key-card with hands-freelocking/unlocking functionality.
Live services include:
–        HD Traffic updates with route optimization. Constantly connected via satellite, the system picks up any traffic congestion (accidents and road works for example) and proactively proposes a modified route enabling the driver to avoid slow-downs and get to his/her destination as quickly as possible.
–        Tom Tom places.  Looking for an Indian restaurant, a shoe store or pharmacy? The driver simply types in a key word and this intuitive search engine will find all matching locations in the surrounding area or at a specific destination.
–        Weather forecast.  Thanks to the system's ability to deliver daily and up to five-day weather forecasts, you'll always know what to expect weather-wise and be able to adapt or plan your travels accordingly.
Auto locking/unlocking function
Super smart and safe, the automated locking and unlocking function is a value add in terms of ultimate hands-free convenience.
–        With his or her Renault smart key-card housed in a pocket or a handbag, the driver simply needs to place a hand on a door handle and the car automatically unlocks.
–        Once inside, he/she just presses the start button and the engine switches on – no need to look for the key-card!
–        Once at his/her destination, the driver switches off the engine and leaves the car. Once the driver is a few metres away from the vehicle, it automatically locks its doors.
NEW VARIANT MEGANE GT TURBO 162KW:
Spirited performance for everyday use
The introduction of the New Mégane GT Turbo 162kW derivative is Renault's response to customers who expect a high level of performance with no compromise in relation to comfort and practicality.
In terms of exterior design, the GT Turbo has the specific front and rear bumpers, dark grey door handles and side mirrors in common with its mid-level GT-Line Turbo sibling. Its outer good looks are further complemented by the fitment of 18" alloy wheels, GT signature on the boot lid as well as below the diamond badge centrepiece which fronts the grille.
Its sporty and sophisticated interior boasts combination fabric/leather seats which also reflect the exclusive GT signature, Renault Sport-specific dash cluster and a dashboard-integrated grey line. To finish off, the front doors sills are cladded with Renault Sport-branded protectors.
The well-known and much-praised 2.0ℓ Turbo Renault Sport engine is inherent to the spirit of the flagship New Mégane GT Turbo delivering maximum power of 162kW between 4 750 and 6 500 rpm. An extremely responsive engine, maximum torque of 340Nm is available between 2 400 and 3 500 rpm and, with zero to 100km/h achievable in just 7.6 seconds, the GT Turbo has a top speed of 240km/h. Thanks to its stop/start functionality and in relation to its performance level, it is extremely fuel efficient as reflected by its consumption of 7.3ℓ /100km in the combined cycle NEDC (163g CO² / km).
The chassis is also derived from the performance plus Mégane Renault Sport (RS) but with specific suspension settings and specifically calibrated power steering. The brakes have been adapted to the GT Turbo's performance levels with the inclusion of front discs measuring 320mm in diameter and the fitment of the same high-performance tyres used on the go-getter Mégane RS LUX model.
INDUSTRY-LEADING WARRANTY & STANDARD SERVICE PLAN
As with all products in the stable, Complete Peace of Mind kicks in as soon as the deal is done and the New Mégane MY2014 line-up comes standard with Renault's industry-leading five-year/
150 000km Warranty complemented by a standard five-year/ 90 000km Service Plan.
In accordance with Renault South Africa's commitment to affordable parts' pricing, the pricing of New Mégane MY2014 spare parts will ensure that the model ranks within the top five of SA's passenger car C-hatch segment. Moreover, the company has a stockholding in excess of 17 000 spare parts in its warehouse located in Rosslyn outside Pretoria with 95% of parts ordered, picked and delivered to every Renault dealer countrywide in under 24 hours.
RECOMMENDED PRICING :  Inclusive of Service Plan
The three derivatives that make up the New Mégane Model Year 2014 range are available in Hatch (five doors) or Coupé (three doors) body shape options. Both body shape options offer the exact same specifications and are identically priced.
NEW Mégane MY2014  Dynamique 81kW                  Hatch or Coupé           R249 900
NEW Mégane MY2014  GT-Line Turbo 97kW              Hatch or Coupé           R279 900
NEW Mégane MY2014  GT Turbo 162kW                   Hatch or Coupé           R329 900
| | |
| --- | --- |
| OPTIONS AVAILABLE | RETAIL PRICE |
| 17″ Alloy wheels (Dynamique) | R  3 000 |
| Sunroof               (Coupé fixed) | R  8 000 |
| Sunroof               (Hatch electric) | R10 000 |
| Leather pack | R12 000 |
| Rear Camera      (GT Coupé) | R  5 000 |
| Metallic Paint | R  2 500 |