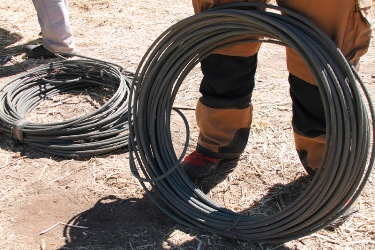 The fight against non-ferrous metals related crimes became successful when three suspects were apprehended for theft of electrical copper cables on Thursday, 28 August 2014 in Vryburg.
The arrest came after the town was left dark due to alleged theft of electric copper cable soon after 22:00 on Thursday, 28 August 2014.  It is alleged that a team contracted to ESKOM and known as Combined Private Investigation that was deployed in the affected area, immediately conducted a search.
They allegedly searched the electric power line and the field along N14 road where three males were found in possession of 450 metres of electrical copper cables that were apparently stolen from the power line near Vryburg.
The police were called to attend the scene where three rolls of electrical copper cables were confiscated. The replacement value of the cables is estimated at R67 000.00.
Three suspects, aged 29, 38 and 46 for were arrested for theft and possession of copper cables.  The trio is due to appear in Vryburg Magistrates' Court on Monday, 01 September 2014.
Also view:
Crime as a Threat to Road Safety in South Africa