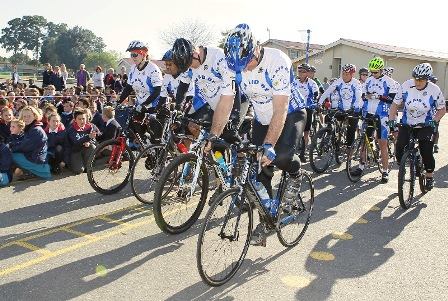 Eighteen cyclists started a 520km tour across the Western Cape to raise funds for the SAPS Education Trust. The send-off took place from the Brackenfell Primary School shortly before 10am on Thursday, 11 September 2014.
Ten of the cyclists are SAPS members based at stations in the Kraaifontein Cluster, while eight are civilians living in the cluster. The SAPS cyclists and the support team are based at Brackenfell SAPS, Kraaifontein SAPS and the Flying Squad.
The first stage takes the cyclists to Durbanville and Kraaifontein, then onto Doring Bay, Lutzville, Vredendal, Klawer and Clanwilliam. They turn around in Yzerfontein. Fundraising events will be held on the cycling route with local artists Hugo Nieuwoudt and Amore. The cyclists will return on Tuesday, 16 September 2014 to the Brackenfell Sportsground.
The cycling tour was the brainchild of Brackenfell Police headed by Station Commander Colonel Willie Joseph. The SAPS Education Trust was established in October 2010 with the purpose to enable children of SAPS members – who died in the line of duty – to apply for financial assistance in order to further their education.
This initiative from the Ministry and National Head Office really touched a cord with members of Brackenfell SAPS. The reality is that at any given time one of their families might be affected by such a loss and then need to make use of the trust.
They got together and proposed the idea for a cycle tour. The first cycle tour was held during May 2012 and a total of R40 000 was raised. The second tour was held in May 2013 and R96 000 was raised.
Brackenfell Police spokesperson, Warrant Officer Erica Crous, said: "This year we aim to raise much more, with the assistance of stations on our cycle route and the generosity of the communities."
Also View: