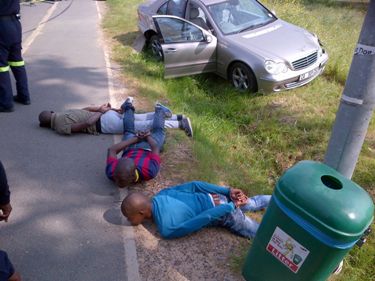 The swift reaction from members of SAPS resulted in the apprehension of four suspects today who were caught red handed while attempting to break into a residence in Hambley Road Langeberg Ridge, Kraaifontein.
The suspects also used the crowbar method to gain entry to the premises.
While driving around in the neighbourhood with a stolen vehicle, a Mercedes Benz stolen in Bothasig earlier this month, the suspects were spotted by alert police members who kept them under observation.
They were approached as they made their attempt to enter the premises, but fled the scene upon the arrival of SAPS. After a brief pursuit, the suspects made a collision with the stolen vehicle and were arrested.
The suspects who are aged between 20 and 32 are due to make a court appearance once they have been charged for possession of stolen property and attempted house breaking.
Their involvement in other crime will be investigated.
Also view:
Crime as a Threat to Road Safety
Tips for increased Safety Awareness and Preventing House Robberies