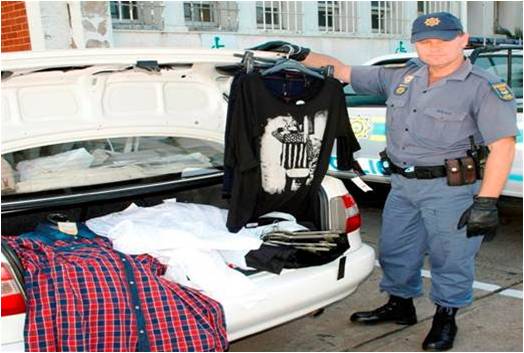 A man and a woman appeared in the Port Shepstone Magistrates' Court on Monday this week, on a charge of being in possession of suspected stolen property.
The case has been postponed to 17 September 2014 for a formal bail application and the couple remains in police custody.
They were arrested last Friday and clothing valued in excess of R20 000 was recovered and handed back to the stores they were allegedly stolen from.
"Police received a tip-off about people acting suspiciously in the vicinity of the Southcoast Mall," said police spokesman Captain Vincent Pandarum.
"Warrant Officer Gerhard Prinsloo of the Port Shepstone SAPS Collision Unit called for back-up and kept observation. He was joined by a shift response crew as well as Warrant Officer Sydney Seaton of the Port Shepstone Tactical Response Team (TRT)," said Capt Pandarum.
The officers intercepted a taxi with Pietermaritzburg registration plates and upon searching it, discovered a number of large plastic bags full of the clothing.
The officers also stopped a local minibus taxi before it could drive away from the mall's parking area and arrested a woman.
"At this stage, it appears that Thembele Cynthia Dlamini (45) had hired Bongani Simelane (41), a taxi driver from Pietermaritzburg, to bring her to the Southcoast Mall," said Capt Pandarum.
The recovered clothing items have been identified by the respective stores, which include Markham, Purple House Boutique, Truworths, Ackermans, Milady and Fashion Express.
Also view: