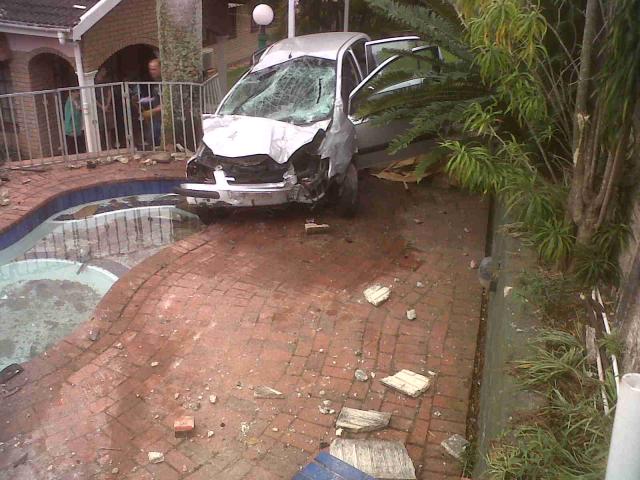 Paramedics from KZN EMS and private ambulance services responded to the scene which occurred just before 15h00 this afternoon. A tragic chain of events left one man fatality injured and another critically injured.
It appears if a car travelling on Main road, just passed the Police station, hit a pedestrian before leaving the road and crashing into a light pole, then slamming through a wall before caming to rest next to a swimming pool in the property of a residential town house.
Sadly the pedestrian, who paramedics found lying on the pavement had sustained fatal injuries and the man, who was estimated to be about 50 years old, was declared dead by the attending paramedics.
The driver of the by now severally damaged car was critically injured as well as entrapped in the crumpled vehicle, which when the vehicle came to rest had its front wheel hanging over the edge of the swimming pool. The patient, a man in his forties was treated by paramedics from a private ambulance, while he was extricated, they then also treated the man en route to hospital.
The fire department then had to also isolate the live electrical wires from the damaged light pole.
The police are investigating the incident.
For more details please contact
Robert Mckenzie
Media Liaison Officer: Emergency Medical Services