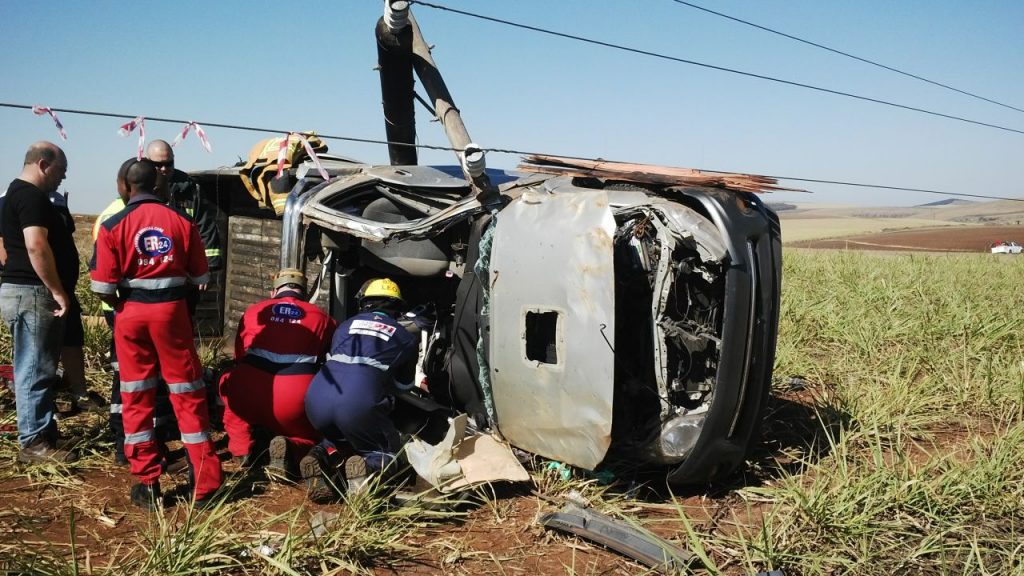 Paramedics have responded to a serious accident on the R612 Umbumbulu road near the Eston turn off, in the KZN midlands.
The accident involved a bakkie, which apparently left the road and collided with a electricity pole. A team of paramedics from KZN EMS and several private ambulance services treated the man, who had been entrapped in the vehicle, which came to rest on its side after the collision. Paramedics had to work under the low hanging live electricity cables which were hanging just inches above their heads.
The man was entrapped in the vehicle and the paramedics used a hacksaw and crow bar to start extricating the patient while the fire department responded to scene. The jaws of life were used to complete the extrication and the man was freed from the vehicle after a complicated extrication and received further treatment from the paramedics as he is in a critical condition as he had sustained multiple critical injuries. The KZN Department of Health medical helicopter was dispatched to the scene. The helicopter landed to a emergency landing zone a safe distance from the crash site.
The patient was handed over to the flight paramedics and has been airlifted to a private hospital in Pietermaritzburg where he was handed over to a trauma team who had been awaiting his arrival.
The exact cause of the accident is being investigated by the Police, who were also on scene.
Robert Mckenzie
Interim Media Liaison Officer: Emergency Medical Services