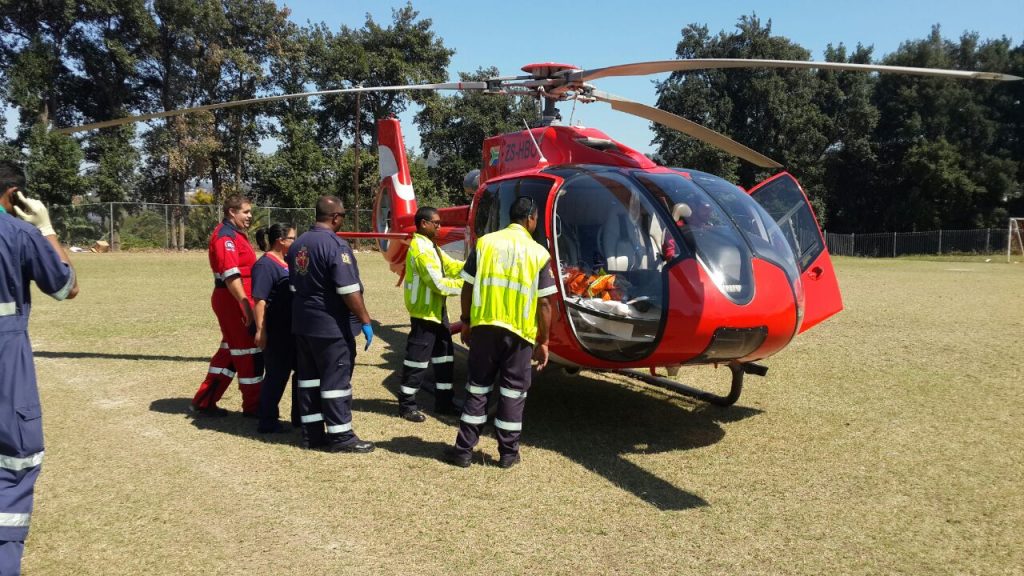 Paramedics responded through the heavily congested Monday morning mid-morning traffic, made worse by road works in the area, to Shepstone road in New Germany. The call was for a road construction worker who had been hit by a vehicle, it is understood that the man was warning traffic of the upcoming road works, when he was hit by a vehicle. Paramedics from KZN Emergency Medical Services and a local private ambulance responded to the incident earlier this morning.
The paramedics found the man who was estimated to be in his twenties, lying on the road in a critical condition, with his warning flag lying nearby. The man's critical injuries required advanced life support, which was provided by the several Advanced Life Support paramedics on scene and the team of paramedics worked rapidly and professionally together, to provide the emergency care the patient required. Due to the critical nature of his injuries and the severe traffic congestion, which had been made worse by the accident scene, the decision was made to airlift the man to hospital. The KZN Department of Health's air ambulance was activated and flew to the scene.
Avoiding all the congested traffic, the helicopter made a dusty landing at a nearby sports field off Broadway street. The patient who had already been prepared for airlifting was quickly loaded into the helicopter. The patient was transported to a private hospital in Durban for level one trauma care.
The exact details into the accident are being investigated by the police.
We would like to wish the man a speedy recovery and say well done to all the emergency services involved in assisting the man.
Robert Mckenzie
Media Liaison Officer: Emergency Medical Services
Also view:
Road Safety in Areas of Road Construction